Boston-based chef and restaurateur Will Gilson grew up in rural Groton, Massachusetts, working on his family farm (four acres passed down through 13 generations) and restaurant, Herb Lyceum (he learned to cook on a 1920s Glenwood range and bake pastry standing a hutch with a built-in flour sifter).
So the recently opened Puritan & Company, Gilson's latest venture in Cambridge's Inman Square, pays homage to his own Mayflower heritage and a simpler dining tradition. A modern Luddite when it comes to dining, Gilson told the Boston Phoenix that one of his aims at Puritan & Co. is to "let people get a chance to be human beings again, not introverts toying around on their iPhones." With an interior of serene blues and pale wood, the restaurant, designed by Anthony Sparandara of ASK Design/Build, allows for an undisturbed dining experience (the restaurant derives its name from the Puritan Cake Company, which previously occupied the space). Go to Puritan & Co. for more information.
Photography by Rachel Leah Blumenthal (except where noted).
Above: Dark wood chairs mix with upholstered banquettes that run along the back wall.
Above: The restaurant's layout includes two communal tables that run down the center, standard dining tables on one side, and a long bar on the other.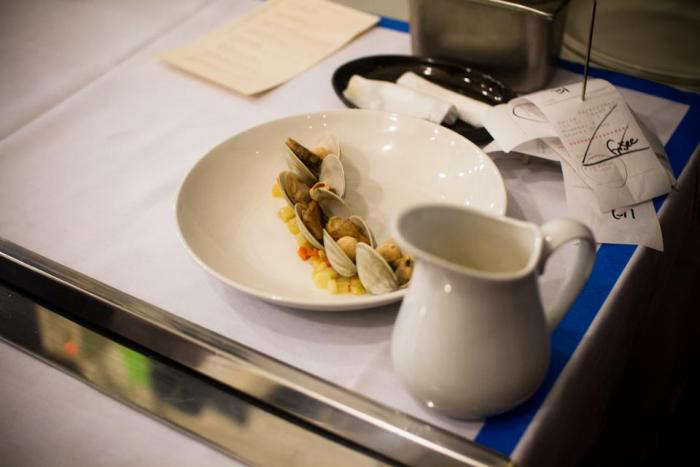 Above: Gilson and sous chef Mike Sheehan serve up fresh clams. Photograph via Puritan & Co. on Facebook.
Above: Integral to New England cuisine: a seven-seat oyster bar mixes with the charcuterie bar.
Above: Puritan & Co. is accented with vintage items straight from Gilson's childhood farmhouse, like this 1920s Glenwood range.
N.B.: Looking for more blue-toned rooms? See 93 more Blue Dining Rooms in our Gallery of rooms and spaces.
You need to login or register to view and manage your bookmarks.