In 1975, Jeffrey's was a local institution in downtown Austin, Texas, a gathering spot for proper Southern fine dining. Today it's still Jeffrey's, but with an updated attitude, representing a new manner of Southern design inspired by the aesthetics of Houston-born movie director Wes Anderson. Jeffrey's even teamed up with the Anderson's personal tailor to design staff uniforms.
Owner Larry McGuire, of Clark's Oyster Bar and Josephine House fame, was looking to make a statement with Jeffrey's–a hip take on the country-club atmosphere of the Old South. His company, McGuire Moorman Hospitality, worked with architects Paul Clayton and Emily Little and interior designer Mark Ashby to create the look. Saluting the Jeffrey's of the past, the interiors are a throwback to the 1970s: blue velvet upholstery, Texas sycamore paneling, George Nakashima chairs, and Schott Zwiesel glassware. While the design leans toward nostalgia, the menu is progressive: Jeffrey's was recently named the nation's eighth best new restaurant by Bon Appétit.
For more information, visit Jeffrey's on West Lynn Street in Austin, Texas.
Photography by Michael A. Muller for Remodelista.
Above: Jeffrey's offers a complimentary valet service starting in the late afternoon and a car service for pick up and drop off in West Austin.
Above: Polo shirts and sweatbands were inspired by Luke Wilson's character, Richie, in The Royal Tenenbaums.
Above: Texas sycamore paneling was built and installed by Austin's Vintage Material Supply.
Above: A palette of dark wood and midnight blue is carried through to table linens, waitstaff nightshirts, and velvet couches (built by Texas Custom Seating).
Above: Owner Larry McGuire having a film noir moment.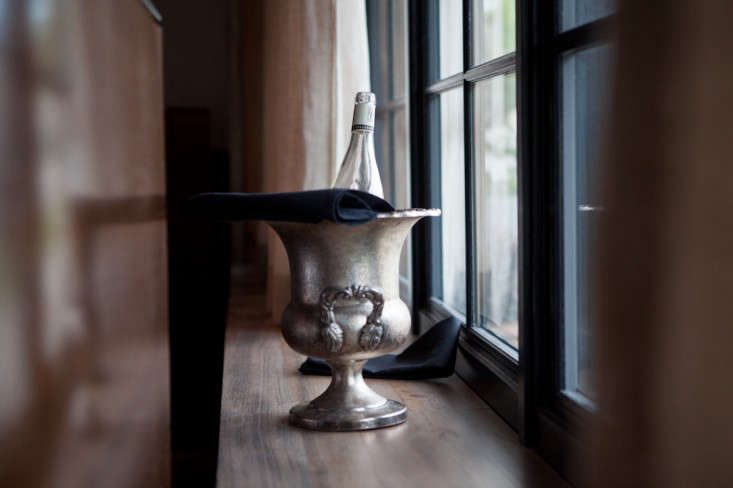 Above: Cocktail culture is taken seriously at Jeffrey's; Champagne is chilled in vintage buckets, and a customized martini cart is presented at each table.
Above: A mounted Springbok antelope from The Corner Shoppe in Austin presides over the fireplace.
Above: Seating in the main dining room consists of Nakashima Straight-Backed Chairs and Bottega Leather Side Chairs, both sourced from Design Within Reach. The dining room walnut and bronze banquette was custom made in Austin and upholstered in San Antonio.
Above: Dinner is served on Convivio Pewter and Ceramic Plates from Match in Italy. For more, see our previous post High/Low: Pewter Dinner Plates.
Above: The wood-burning oven was fabricated by Wood Stone.
Above: The Napoleon Room, one of two plush carpeted dining rooms, is outfitted with a custom table, Milo Baughman chairs in Paul Smith fabrics, and vintage Stilnovo lighting.
Above: Cocktails are served in a mix of vintage, crystal, and Zwiesel glassware. Bartenders wear tuxedo shirts and bow ties.
Above: Low lighting adds to the subtle theatrics.
Above: The outside is kept minimal with simple signage and a front lawn of wicker chairs.
Traveling to Austin? See our favorite shops, restaurants, and hotels in and around Austin in our City Guides section.
Location of Jeffrey's in Austin:
(Visited 192 times, 2 visits today)