When I decided it was time to change out the curtains in my apartment, I figured I could do it in one weekend. Wrong. First there's the hardware to contend with (I've purchased all eight curtain rods, but they've been sitting in the closet while I decide on the perfect curtain panel). If only I had known about the Bouroullec Brother's latest venture: Ready Made Curtains.
The Ready Made Curtain is an easy-to-install kit that includes everything you need: the curtains themselves, two wooden hanging mechanisms, nine pegs, and 196 inches of cord. The systems are available with a woolen fabric panel in flaming red, navy, or white or as a non-woven textile in white, pale blue (with red cord), or navy. Ronan & Erwan Bouroullec designed the curtain systems for Kvadrat and debuted them at the recent imm Cologne.
Above: The curtains are available with an extension kit for wider windows.
Above: Ready Made Curtains are currently available through Ligne Roset, contact directly for stores and availability.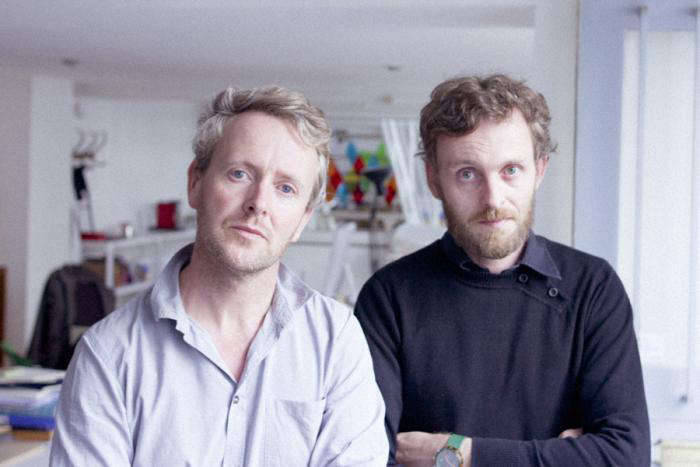 Above: Ronan and Erwan Bouroullec photographed by Linus Ricard for Disegno Magazine.
Above: The curtains can be installed in five easy steps: fix the two mechanisms to the wall or ceiling, wind to create tension in the cord, cut your fabric to the correct length, attach the pegs to the fabric, and hang your curtain.
Above: Two kits: one in warm white with a wood mechanism and the other in pure navy blue.
Above: A peg clamps the top of the non-woven textile to hold it in place.
Above: Studies for determining the peg and winding cord mechanism protype.
N.B.: For more curtains, shop all 19 Window Coverings in our Shop section.
(Visited 346 times, 1 visits today)