Set in a former brothel in Pigalle, Hotel Amour is one of those low-key Paris hotspots that gets whispered from one style setter to the next (beware: during fashion weeks, you might not be able to get a toehold). Best known for its restaurant, and in particular its splendid eggs and salads brunch, it has 24 rooms, each designed by an artist with love on the brain. What better place be on Valentine's Day?
Photographs from the Hotel Amour, unless otherwise noted.
Above: The hotel is set in one of Pigalle's famous bordellos and playfully salutes its past starting with its pink neon sign. Photograph by Matthew Williams.
Above: A two-story suite with open bathroom. Photograph by Anne Ditmeyer of Príªt í  Voyager for Design Tripper.
Above: Each of the rooms is the work of a different artist or designer, and the looks vary wildly (there's even a teen room with a skateboard and lit vitrine of plastic figurines). The walls of this double bedroom are enameled in a high-gloss black paint.
Above: You might luck into a mirrored vanity. All of the furniture at Hotel Amour dates from the fifties and sixties and was found at auctions and antiques fairs.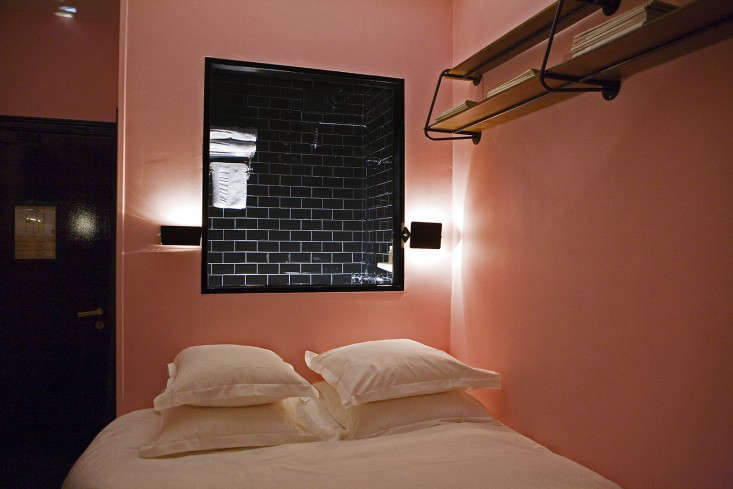 Above: Salmon pink walls meet black subway tiles in a bedroom with a window onto the bath.
Above: The creative team behind the hotel explain "the general theme is the erotism"–here in a blue and green chamber with photographs by Irina Ionesco of her daughter, actress and director Eva Ionesco.
Above: Green marble tiles extend down the shower wall and onto the bathroom floor.
Above: Our vote for the room to request: beloved French illustrator Pierre Le-Tan's apple green boudoir, filled with his drawings and musings on love and crowned with a portrait of a man tucked in with a life-size teddy.
Above: Hotel Amour's hip-homey restaurant is right off the tiny lobby. Photograph via Design Tripper.
Above: The main draw is the restaurant's courtyard; it's the place to be for le brunch.
Above: The classic red, white, and blue seating is vintage.
Above: For more of the hotel, see Paris' Most Romantic Courtyard Garden.
Below: The hotel is at 8 Rue de Navarin, in the 9th arrondissement, just south of Montmartre.
For more in and around Paris, see our Travels with an Editor: Paris series and visit our Paris City Guide.
(Visited 309 times, 2 visits today)