Three years ago, Shawn Chopra and Anne Morgan opened Good Neighbor, a Baltimore cafe and retail space that celebrates local artisans. "Baltimore has an amazing group of creatives, designers, and woodworkers," Shawn says. "We really wanted to find a home to showcase their products, make it interactive, and immerse people into their furniture, books, and ceramics in the disguise of a coffee shop."
Guesthouse, the new boutique hotel in the two floors above Good Neighbor, is an extension of this mission. A stay in one of the seven suites gives guests the opportunity to live with the products that Shawn curates—and buy them, too. Nearly every object in the lobby, bedrooms, and bathrooms is shopable. "All those items are for discovery," says Shawn. "People can really test everything out."
In addition to highlighting Baltimore's creative community, Guesthouse also features Scandinavian brands that aren't often found in Maryland and honors Shawn and Anne's Indian and Egyptian heritages. These close-by and far-flung influences mingle to create a contemporary minimalist aesthetic that's infused with warmth and personality.
Here, nine design ideas to steal:
Photography by Justin Timothy Temple.
1. Design with nostalgia in mind.
2. Install a statement sink.
3. Swap white oak for Douglas fir.
4. Style utilitarian vessels as decor.
5. Use a headboard as a room divider.
6. Emphasize closet doors…
7. …and bathroom door handles.
8. Frame windows in wood.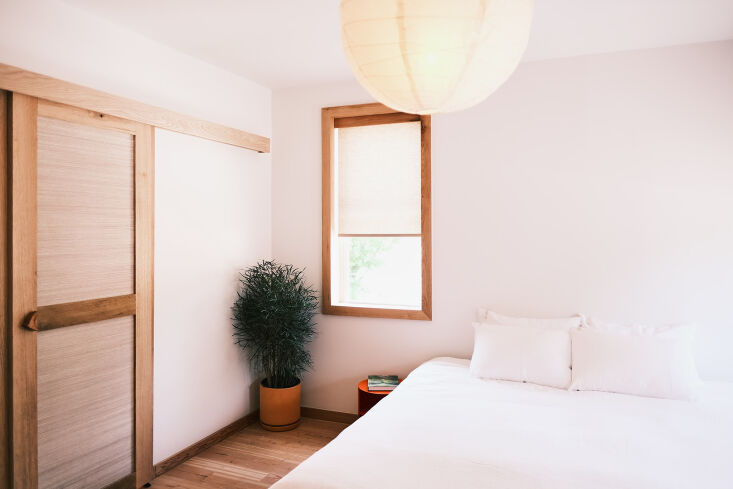 9. Try Moroccan tadelakt plaster.
Looking for more ideas to borrow from design-forward hotels and restaurants? We suggest:
(Visited 6,506 times, 1 visits today)
Frequently asked questions
What is the article about?
The article is about a guesthouse that showcases good design ideas in Baltimore.
Where can I find the guesthouse?
The guesthouse is located in Baltimore.
What design ideas are highlighted in the guesthouse?
The guesthouse showcases various design ideas related to interior design, architecture, landscaping, and furnishings.
Are there pictures of the guesthouse in the article?
Yes, the article includes several pictures showcasing the guesthouse and its design elements.
Is the article focused on sustainable design?
While the article doesn't explicitly mention sustainable design, it does highlight stylish and functional design elements.
Does the guesthouse have any unique features?
Yes, the guesthouse incorporates unique features such as a green roof, reclaimed wood elements, and a courtyard garden.
Can visitors stay at the guesthouse?
The article does not mention whether the guesthouse is available for visitors to book a stay.
Can I get design inspiration from the guesthouse?
Yes, the guesthouse serves as a source of design inspiration with its carefully curated interior and exterior elements.
Are there any specific design styles mentioned in the article?
The article doesn't explicitly mention specific design styles, but it highlights elements of modern and contemporary design.
Where can I find more information about the guesthouse?
Unfortunately, the article does not provide additional information about the guesthouse. However, you can try searching online for more details.