Jon Darsky set out with an honorable culinary mission: to bring Neapolitan-inspired pizza directly to the people. The result? Del Popolo, literally meaning of the people, a transatlantic shipping container mounted to a Freightliner M2 truck, delivering thin-crusted pizza to the San Francisco masses.
Darksy, a New York-based professional baseball scout turned San Francisco-based Pizzaiolo, could formerly be found serving up thin, blistered crusts at Pizzeria Delfina and Flour + Water before he started Del Popolo. The truck's 5,000-pound Stefano Ferrara wood-fired brick oven heats up dough made from organic ingredients sourced from domestic and Italian producers. As Darsky says, "in the end, it's still about finding fulfillment doing something simple yet creative that produces something tangible that I am proud of and can give to the people."
To track down the Neapolitan pizza truck, follow Del Popolo on Twitter or on the Del Popolo site for location status updates throughout the Bay Area.
Photography by Eric Zepeda (except where noted).
Above: The 20-foot shipping container mounted on a standard truck bed.
Above: A wall of glass doors exposes the modified kitchen space. Photograph by Matthew Millman for 7×7.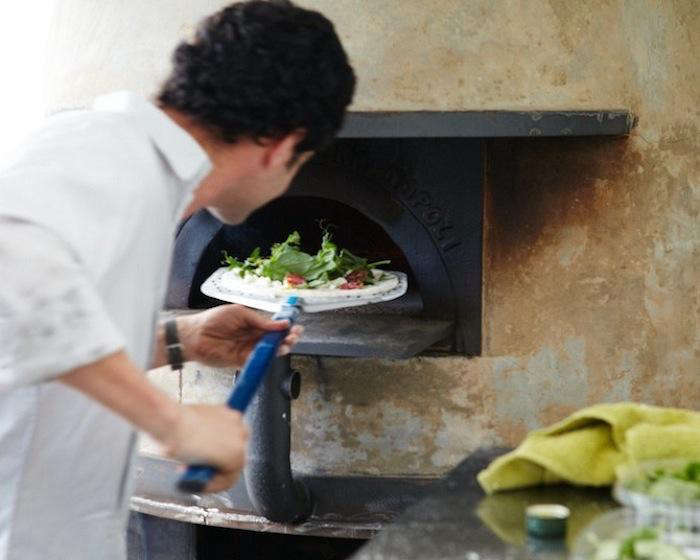 Above: Darksy launches a pie into the Stephano Ferrara oven.
Above: The Del Popolo is made with grana padano, braised rapini, chili oil, and all the essentials.
Above: The upper glass window.
(Visited 116 times, 1 visits today)