In possession of a great tabletop but in need of legs?  Consider hand-crafted hairpin legs from Ian Maclean, a fifth-generation cabinet maker and metal fabricator located in Bay Village, Ohio. Maclean fabricates his midcentury modern–inspired legs to order, in stainless or raw steel finishes, with most orders shipping within two weeks. Maclean also offers custom design and fabrication services for any project, large or  small.
Above: Graphic artist Meghan Burch and her husband, designer Robert Burch, used Ian Maclean's raw steel hairpin legs with a found tabletop (topped with a coat of white paint) to create a dining room table.
Above L: Three Rod Hairpin Legs are more rigid than the standard hairpin leg, thus better suited for pieces requiring more support such as desks and dining tables. Shown in raw steel, they are $22 for the 12-inch size and $27 for the 20-inch size. Above R: The standard Hairpin Legs run $14 for the 4-inch, $16 for the 12-inch, and $19 for the 20-inch sizes.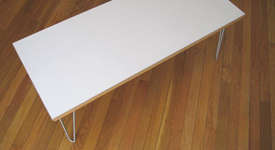 Above: Maclean also offers Rectangular Tabletops made from 1.5-inch baltic birch plywood and high-pressure laminate. Available in several sizes, with prices ranging from $120 to $240.
(Visited 44 times, 1 visits today)