We asked celebrated "paint whisperer" Eve Ashcraft (see Required Reading: The Right Color by Eve Ashcraft) to analyze our favorite indigo room.
"Indigo was once a guarded pigment, used as a dye by members of secretive and powerful textile guilds, and the color still evokes mystery. The bar at the Saint Cecilia Hotel in Austin, Texas, demonstrates how the color indigo can create mood and command space; in this room, the deep color is alluring, the perfect invitation to linger over a drink. A chevron-patterned floor in bold black and white ties it all together, turning what could be a sedate space into a dynamic environment. And finally, upholstery in lipstick red is the switch that turns the room on."
Above: "Cloaking the walls with indigo provides a dramatic backdrop, while extending the color across the ceiling makes the lounge a more intimate space. Handsome black trim adds a modern aspect to the room," says Ashcraft. Photograph by Michael A. Muller.
Above: "White elements like the marble tabletops and the fireplace wall (not to mention the albino peacock) bounce light around and also balance the dark elements," she says. Photograph by Michael A. Muller.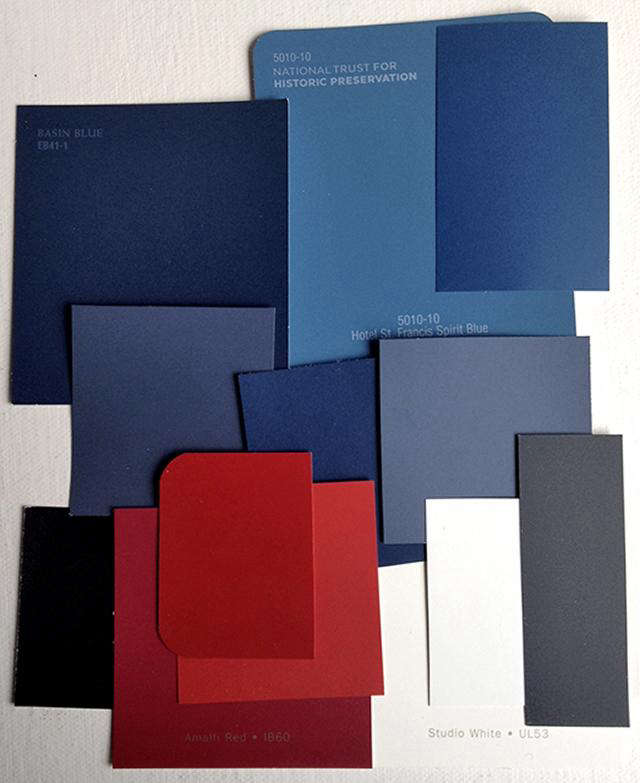 Above: Eve Ashcraft's paint palette shows how indigo can work with other colors (clockwise from top L): Eddie Bauer/Valspar Basin Blue EB41-1, National Trust for Historic Preservation Hotel St. Francis Spirit Blue 5010-10, Pratt & Lambert Spanish Blue 25-16, Benjamin Moore Van Deusen Blue HC-156, Farrow & Ball Railings No. 31, Benjamin Moore Winter White 2140-70, Ralph Lauren Studio White UL53, Ralph Lauren Amalfi Red IB60, Benjamin Moore Neon Red 2087-10, Fine Paints of Europe Select Collection #9340, Benjamin Moore Black Satin 2131-10, Benjamin Moore Newburyport Blue HC-155, Benjamin Moore Marine Blue 2059-10.
You need to login or register to view and manage your bookmarks.