In order to keep her kitchen neat and serene, designer Emily Henderson carved out a spacious walk-in pantry to conceal the everyday clutter of family life: food staples, small appliances, cookbooks, water bottles, a coffee/tea station, and everything else that needs to be out of the way but easily accessible (we're looking at you, school forms). It's essentially her catch-all space with plenty of both storage and style.
"I like…dedicated closets/rooms to throw the mess and pretend it's not mine. It's part cognitive dissonance, part denial, maybe some ADHD tendencies, and definitely a byproduct of my job. Containing the mess just makes it manageable," Emily wrote on her blog about her pantry.
Below, we take a tour of Emily's beautifully planned pantry.
Photography by Kaitlin Green, courtesy of Style by Emily Henderson.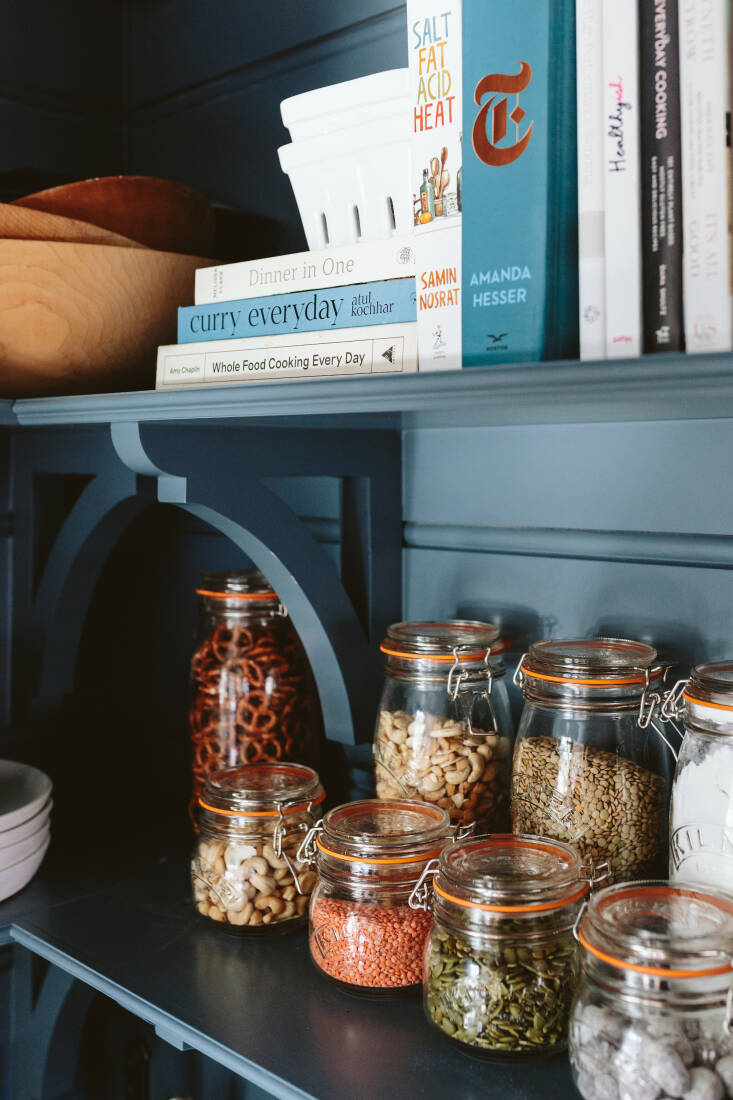 For more pantry inspiration, see:
N.B.: This story originally appeared on our sister site The Organized Home on April 7, 2023.
(Visited 11,467 times, 6 visits today)
Frequently asked questions
Who is Emily Henderson?
Emily Henderson is an interior designer and author known for her approachable, eclectic design style. She has been featured on HGTV's 'Design Star' and has her own design blog.
What is a pantry design?
A pantry design refers to the layout and organization of a pantry space in a kitchen or pantry room. It involves optimizing the storage space and creating functional and aesthetically pleasing storage solutions.
Why is pantry design important?
Pantry design is important because it helps maximize storage space and makes it easier to access and organize food items and kitchen supplies. A well-designed pantry can streamline meal preparation and reduce clutter in the kitchen.
What are some key features of a well-designed pantry?
Some key features of a well-designed pantry include ample storage shelves or cabinets, adjustable shelving, clear containers for dry goods, proper lighting, and effective organization systems such as labels or categorization.
What are some tips for organizing a pantry?
Some tips for organizing a pantry include grouping similar items together, using clear storage containers to see contents easily, labeling shelves or containers, utilizing vertical space with hooks or racks, and regularly decluttering expired or unused items.
How can I make the most of a small pantry space?
To make the most of a small pantry space, consider using stackable storage containers, installing adjustable shelving, utilizing the back of the pantry door with hooks or racks, and implementing a rotation system for items to ensure nothing goes unused or expired.
What are some popular pantry design trends?
Some popular pantry design trends include walk-in pantries with sliding barn doors, open shelving for a modern and minimalist look, incorporating a pantry into the kitchen cabinetry for a seamless design, and using glass jars or canisters for a stylish display.
Where can I find more pantry design inspiration?
You can find more pantry design inspiration from interior design websites, home improvement magazines, social media platforms like Pinterest and Instagram, and by consulting with professional interior designers or kitchen remodelers.