Gemma Moulton launched East London Cloth in 2020 with her grandmother's advice in mind: "Make things that people will need." Since then, the fabric merchant, maker, and designer has become the go-to for handmade, timeless curtains, blinds, and household linens.
Gemma's aesthetic is elegant but unfussy, loose yet quietly luxurious. "I spend a long time thinking about the longevity of our designs," she explains. "They should sit quietly in the background and last for a really long time."
This autumn, in response to the increasing demand for her beautifully made, understated household linens, Gemma and her husband, Ben, have opened a shop, showroom, and workroom on Vyner Street, a historic cobbled street on Regent's Canal, East London.
Once the epicenter of London's rag trade, Vyner Street is now home to a thriving creative community of businesses, shops, studios, and galleries. "In our own unique way, we want to bring back making to the East End," says Gemma. "We want to ensure it's celebrated, valued, and, most importantly, continued."
Inside, customers will find a traditional shop counter piled high with household linens. Shelves of fabric samples, trims, sundries, and hardware provide the backdrop to the thriving workshop, where Gemma's team of makers transform fabrics woven in the UK into practical heirlooms. The full range of dinnerware and bedding will be available to purchase off the shelf, as will café curtains and set length poles in brass and steel.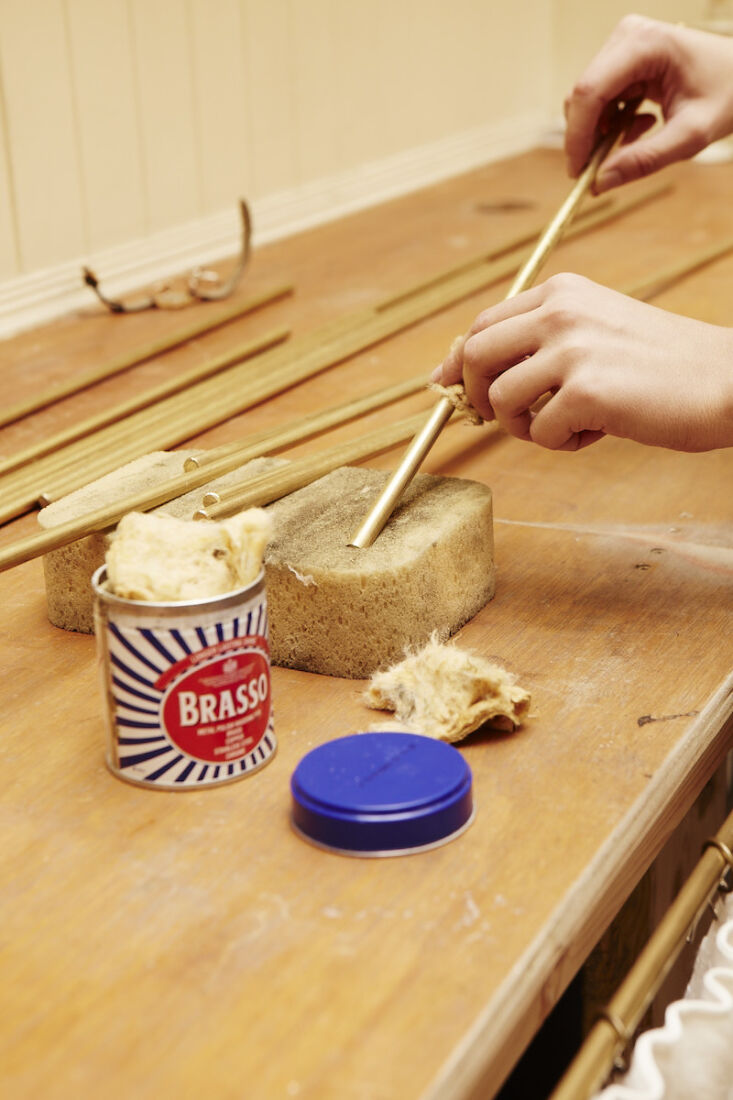 "We've now started dedicating a little bit of time each week to make 'shop exclusives,'" explains Gemma. "This week, for example, we used some dead stock fabrics to make bolster cushions. We've also started to work with more local makers, who will be making their own goods using our fabrics."
The shop—with its smart burgundy frontage and reassuring hum of industry—will also play host to a series of Saturday pop-ups and workshops, from wreath making at Christmas to book-binding using off-cuts of East London Cloth fabrics.
This autumn, East London Cloth launches a partnership with embroiderer Cressida Jamieson. Together they've created a range of personalized, hand-embroidered tablecloths, café curtains, pillow cases, and napkins. Called "Family Linens," each individually stitched piece is made with soft Irish linen and a choice of embroidery colors and techniques. Names, dates, handwritten messages, even unique drawings can all be stitched into the fabric to create a one-of-kind memento.
For more, head to East London Cloth.
You need to login or register to view and manage your bookmarks.