French designer Roxane Beis blends urban chic and rustic charm in her kitchen in the 20th arrondissement.
The once-prosaic counter and island are transformed into sculptural forms with the application of cement render, a mixture of lime, sand, and volcanic ash that's used to smooth over rough concrete or brick walls, and is typically associated with rural abodes–in Provence, for example. In her lofty, white, urban setting, Beis updates the material by applying it to minimalist forms and pairing it with sleek stainless-steel appliances.
Photographs via Roxane Beis.
Above: Rising from a polished concrete floor, the designer's kitchen counter and island appear at once clean-lined and rustic.
Above: The 1,800-square-foot apartment occupies a former print shop.
Above: A large industrial pendant lights the island.
Above: A gooseneck bridge faucet pivots over a double sink.
Above: Beis introduced a rustic texture with reclaimed wood doors on the island.
Above: Solid plaster or cement render surfaces can have a polymer additive introduced to the cement, lime, and sand mix for enhanced water resistance, flexibility, and adhesion.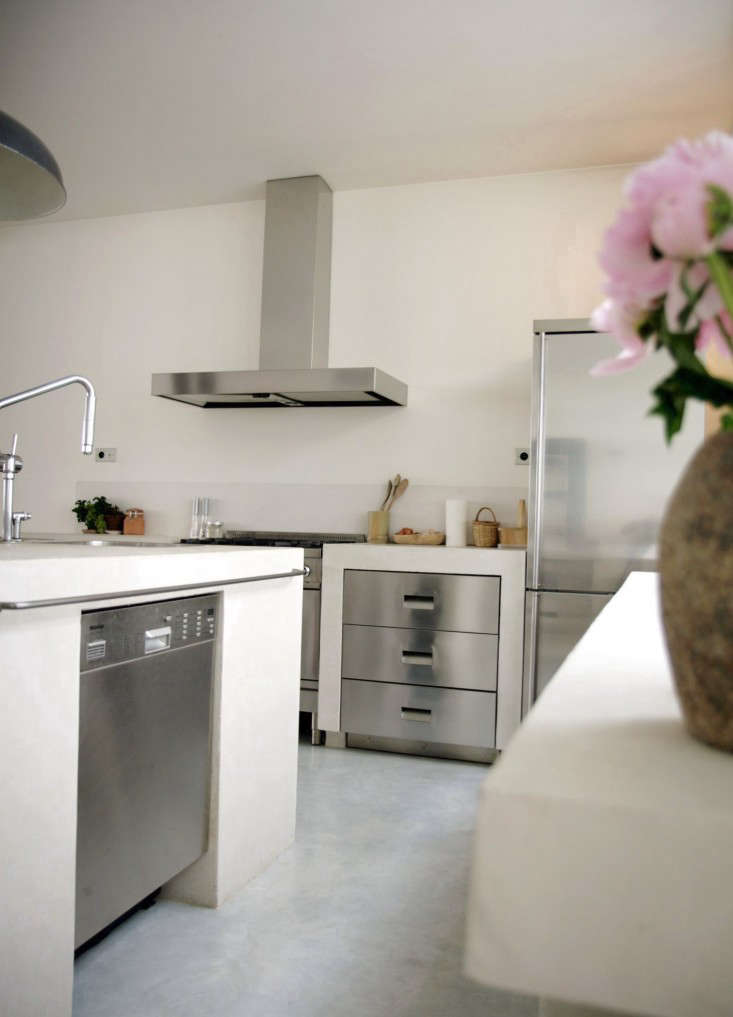 Above: The primary materials in the kitchen are stainless steel and cement render.
Above: Stainless-steel fronted drawers are framed by white cement render–a case of opposites attracting.
Above: The cement render is continued up the wall where it becomes a protective backsplash.
Above: On the sink-side of the island, Beis uses a traditional French country-kitchen detail: under-the-counter curtains to hide storage.
Above: White Tolix chairs add an industrial feel to the rustic wood dining table.
Above: A set of formed concrete shelves covered with cement render provide storage under the long window run.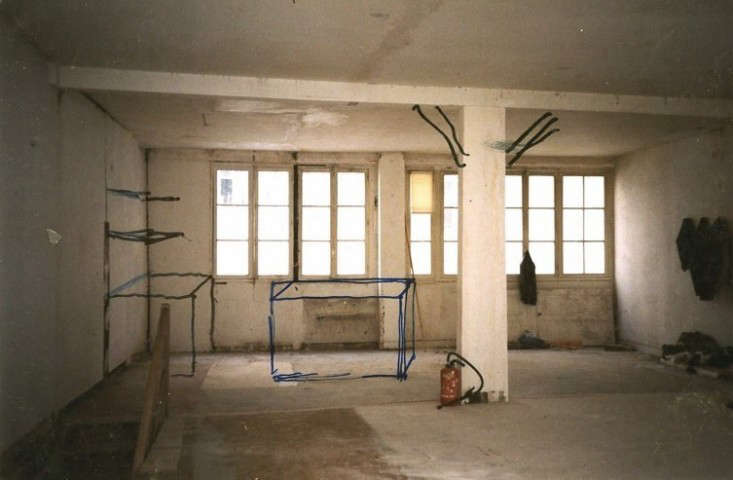 Above: Beis used photos of the kitchen pre-construction to sketch its future incarnation.
Kitchen envy? See Greatest Hits: 16 Fantastique French Kitchens from Our Archives.
You need to login or register to view and manage your bookmarks.