Many of us took up a domestic art or two during the pandemic—cooking, knitting, gardening—but most of us can't say that we grew our hobby into a business. Crystal Ross can.
"It took me a while to find my way, so I tend to credit the pandemic for giving me the time and space to evaluate my path," says Crystal. A trained fine artist, she started hooking rugs as a creative outlet when seemingly the entire world shut down. The craft wasn't exactly new to her, though: Her maternal grandparents, Gérard and Annie-Rose Deveau, were both revered rug-hooking artisans and educators from Chéticamp, Nova Scotia, a community known as the birthplace of rug hooking.
"They were almost always working on something when we'd visit, with a rug set up on a hooking frame," remembers Crystal, who tried the handicraft as a teen but "felt intimidated and insecure, as teens often are." Given her birthright, it was almost inevitable that she would find her way to rug hooking again.
"In my early art-making days, I couldn't shake the feeling that I was just contributing to the 'stuff' in the world. But rug hooking quelled that feeling by checking all my boxes: It gave me creative freedom, used sustainable, hard wearing materials that could fully biodegrade given the right environment, and it was a craft that I really felt connected to," says Crystal, who makes her rugs in her home studio in Dartmouth, Nova Scotia.
Does she see her rugs and pillows as art or utilitarian objects? "Both! That's the thing about craft, isn't it? That said, I do get a thrill when people stomp their feet on my work—it's built for it, and I think it's such a fun connection point."
Here's a sampling of her cheerful and whimsical work.
Photography courtesy of Crystal Rugs.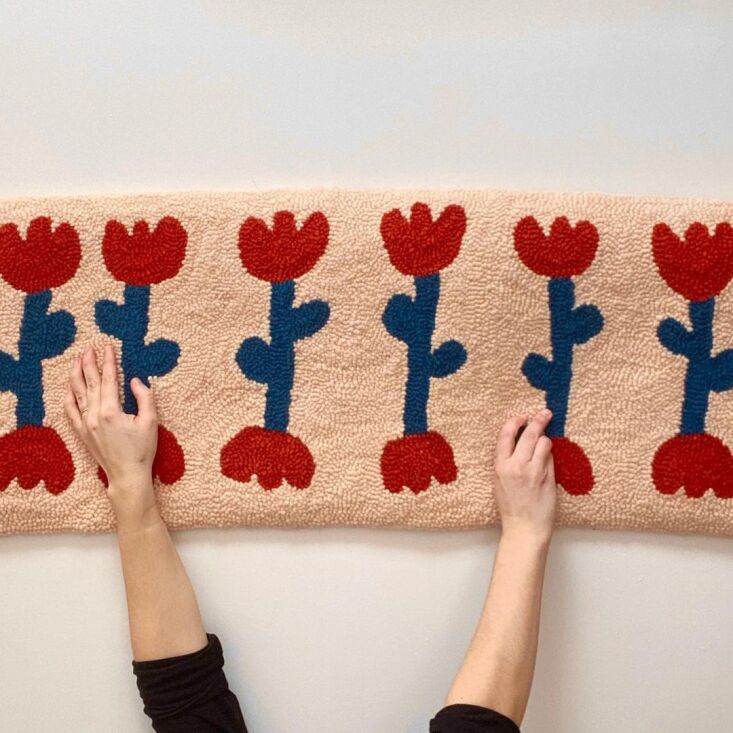 Above: In addition to flower motifs, Crystal often incorporates domesticated animals like cats and horses into her pieces.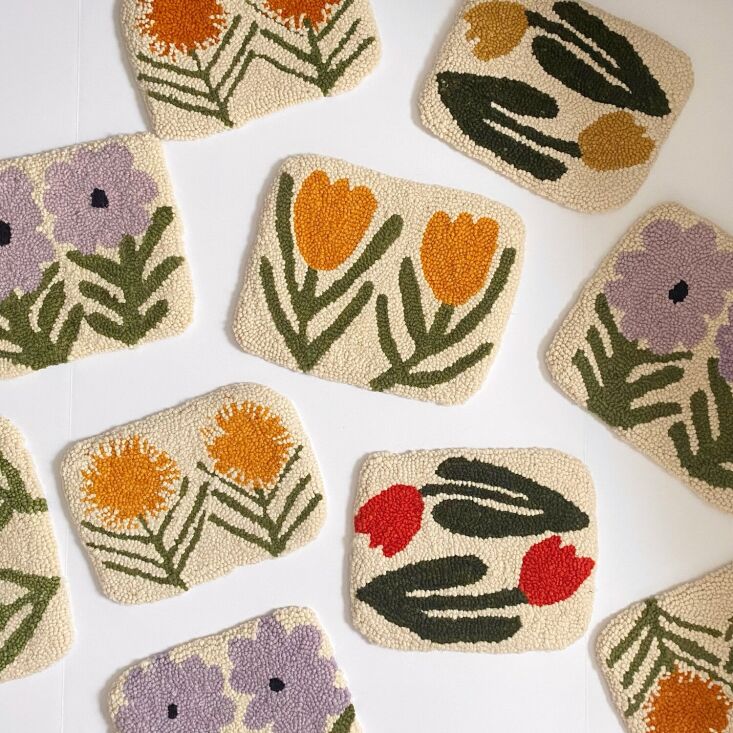 See also:
(Visited 4,731 times, 4 visits today)
Frequently asked questions
What are hooked rugs?
Hooked rugs are a type of rug that is created by pulling loops of fabric or yarn through a backing material using a hook tool. This technique results in a textured pile surface that can be both durable and visually appealing.
How are hooked rugs made?
Hooked rugs are made by stretching a foundation fabric, usually burlap or linen, tightly onto a frame. Then, the rug maker uses a hooked needle or a crochet hook to pull loops of fabric or yarn through the foundation, creating the desired pattern or design.
What materials are used in hooked rugs?
Various materials can be used in hooked rugs, such as wool, cotton, silk, nylon, and even recycled fabrics. Wool is a popular choice due to its durability, softness, and ability to hold vibrant colors.
What styles and designs are available in hooked rugs?
Hooked rugs come in a wide range of styles and designs to suit different aesthetics and preferences. Traditional floral patterns, geometric motifs, and even contemporary abstract designs can be found in hooked rugs.
How do you care for hooked rugs?
To care for hooked rugs, regular vacuuming is recommended to remove dirt and debris. Spot cleaning with a mild detergent and warm water can help with stains. It's important to avoid excessive moisture and direct sunlight, as they can cause fading or damage to the rug.
Can hooked rugs be used in high-traffic areas?
Yes, hooked rugs can be used in high-traffic areas, but it's important to choose a rug with a dense construction and durable materials. This will ensure better resistance to wear and tear, making the rug suitable for areas with heavy foot traffic.
Where can I use hooked rugs in my home?
Hooked rugs can be used in various areas of the home, such as living rooms, bedrooms, hallways, and even kitchens. They can add warmth, texture, and visual interest to any space.
Are hooked rugs suitable for outdoor use?
Most hooked rugs are not designed for outdoor use. They are better suited for indoor spaces where they can be protected from excessive moisture or direct sunlight, which can lead to fading and deterioration.
Can I customize a hooked rug with my own design?
Yes, it is possible to have a hooked rug customized with your own design. Many rug makers and designers offer customization options where you can choose the pattern, colors, and size of the rug to create a unique piece for your space.
Where can I find and purchase hooked rugs?
Hooked rugs can be found and purchased from various sources. They are available at home decor stores, rug specialty shops, online retailers, and even directly from rug makers and artisans.