Jo and John Morfoot are both Norfolk folk, born and raised on the verdant east coast of England. They met when she came looking for urns in his architectural salvage yard, Morways Reclaim. One of the UK's leading proponents of natural floral design, she's the owner of Jo Flowers and happens to also have a knack for interior design. John has not only a trove of materials but carpentry skills, and the two have been collaborating for the last several years on an ongoing project: the creation of a vacation retreat called Settle set on 30 acres of parkland that John's father purchased in the late 1970s.
The property had been used as a small caravan park—a place for vacationers to stay in trailers. John and his father dug two lakes, but their plans of building cabins were thwarted by a lack of funds. Devoting their winter downtime to salvaging those dreams, Jo and John have developed Settle in ways that would surely delight John's late father. Join us for a tour of our favorite attraction, the two antique railway carriages that they converted into storybook guest quarters, each overlooking a lake. If you happen to be within traveling distance, Settle is accepting reservations.
Photography by Haarkon, courtesy of Settle (@settlenorfolk).
Carriage No. 1
John and Jo did the work themselves with help from an employee of John's, plus an electrician and plumber. Settle is located  in an area called Breckland, which, Jo tells us, has "the largest lowland forest in the UK." The property was once part of neighboring estate Shropham Hall.
Carriage No. 2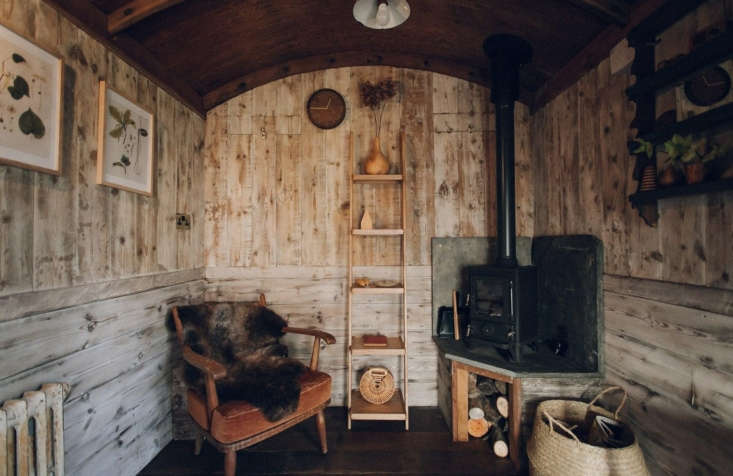 Jo and John are currently at work on their third rail carriage, which they plan to "launch" this summer. Settle also has a lake cabin and three canvas safari tents for rent individually or as a group for 13 guests.
Here are some other eye-opening conversions:
(Visited 755 times, 1 visits today)