In their quest to make Toronto a hub of world-class culture, the owners of Parts & Labour have ruffled a few feathers.
The idea sounds innocent—a French Acadian restaurant sourcing organic beets and nettles from its rooftop garden—but it's Parts & Labour's punk-rock basement, avant-garde arts scene, and overall nontraditional approach that has naysayers up in arms. The space was designed by multidisciplinary Toronto firm Castor Design, whose part-industrial, part-glam environment is peppered with furniture and lighting of its own design. Open for almost two years, Parts & Labour has been accused of not blending in with the rest of the neighborhood; a recent application for a patio space was turned down. But owners Jesse Girard and Richard Lambert aren't anti-establishment, they're simply trying to give the city a more interesting watering hole. They think a nontraditional space is just the kind of thing Toronto's creative types need, and the restaurant's throngs of followers seem to agree.
Photography by Lorne Bridgman.
Above: Castor Design's Spring Chair is made of leather with a powder-coated steel factory spring base.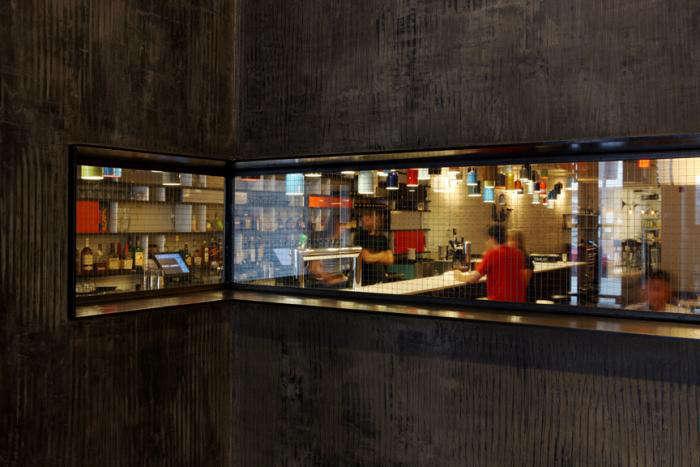 Above: A dividing wall of combed black plaster separates the waiting area from the dining space.
Above: The giant pendant lamp is a satellite dish, plastered, painted, and covered in gold leaf. The brick-print hanging is by artist Jeremy Jansen.
\
Above: The host station, a podium of laser-cut steel.
Above: An homage to Castor's namesake, the beaver: The Castor Stool is carved from a single piece of limestone.
Above: Recycled Tube Lights by Castor Design are made of expired fluorescent tubes, lit from within by incandescent bulbs.
Above: Castor's Tank Lights are made from recycled fire extinguishers and finished in high-gloss automotive paint. An impressive suite of 85 lamps line the bar.
Above: The owners kept the prior tenant's sign (an attempt to fit into the neighborhood?).
Above: The Shop, downstairs from the restaurant, is an arts and music venue.
Above: The space is owned by two experienced entrepreneurs (the branding is no accident).
(Visited 36 times, 1 visits today)