Jeanette Cutlack relocated from Brighton to the Isle of Mull in 2008. She had visited the island just once a few months previously: "That was the first time I'd even been to Scotland," she recalls. "I was only there for a couple of nights, but when I returned to Brighton with my then-husband, we decided we should move there. I just knew that that landscape was what I was meant look at for the rest of my life. And that was it."
Jeanette's first job on the island was making breakfasts in a local café. For a time, she also ran a bed and breakfast from her rented farmhouse. (With a population of under 3000, the island relies heavily on tourism. In the summer months, it's not unusual for islanders to work multiple jobs in order to survive the winter months when visitor numbers decline.) One evening, Jeanette had seven cyclists staying with her. They were ravenous and in search of an evening meal. The capital, Tobermory, was a 45-minute drive; the nearest pub 25 minutes away; so she offered to make them a pie and a tray of brownies herself. "It was magic," she recalls. That was the summer of 2013. By the beginning of 2014, she'd transformed part of her home into a convivial—if crowded—restaurant.
During her first decade on the island, Jeanette would often walk past a dilapidated croft set low in the landscape. Hunkered below the road, the roofless basalt barn had uninterrupted views across Loch Tuath bay to the Isle of Ulva. "For ten years, I would walk past the barn and imagine sheep on the hillside and food growing next to the barn," Jeanette explains.
Jeanette's home restaurant was fully booked for five years. "It opened up my world," she says, still incredulous. At the start of 2019, having saved and saved, she approached the elderly woman who owned the croft (which includes 50 acres of land) and arranged to buy it from her.
Whilst living in Brighton in her late teens, Jeanette worked at the local cinema with Edward Farleigh-Dastmalchi, who was studying architecture at Sussex University. The friends stayed in touch over the years, and so when Jeanette became the owner of Croft 3, she asked Edward to come and visit what would be the site of her new community dining hall and—eventually—her new home.
The friends first explored the basalt ruin together in the summer of 2019. Edward recalls beating back the bracken in order to reach the barn, which was gradually being reclaimed by nature. They took a walk down to the water's edge, which is fringed by high reeds, a gnarled ancient woodland to one side, an unexplained stone circle to the other. "It just seemed like such an incredible site," Edwards says. "So full of possibilities." At the time, Edward was working full time for Karakusevic Carson Architects; the croft became a side project.
The window openings are set at seated eye level. "Jeanette's home restaurant was so convivial, and I wanted to transport some of that character to the croft," Edward explains. "As a result, the natural light is generally focused on the lower level. As you enter the space, you're aware of this large void above, but as you're sitting and chatting and eating, you feel enclosed in your own intimate bubble."
The room is plainly furnished with reclaimed French cafe chairs, brewers' benches, and six communal dining tables made on the island from a single Douglas fir tree. (The maximum capacity in the space is 48.) Ply and raw plaster wrap the walls. "We made a virtue of the cost effectiveness of those materials," Edward explains. "We wanted people to feel as though they could come in here in their muddy boots with their wet coats. We didn't want it to feel too rarefied or precious. This really plays into that idea that this is a place for everyone, that it's a community space as much as it is a restaurant."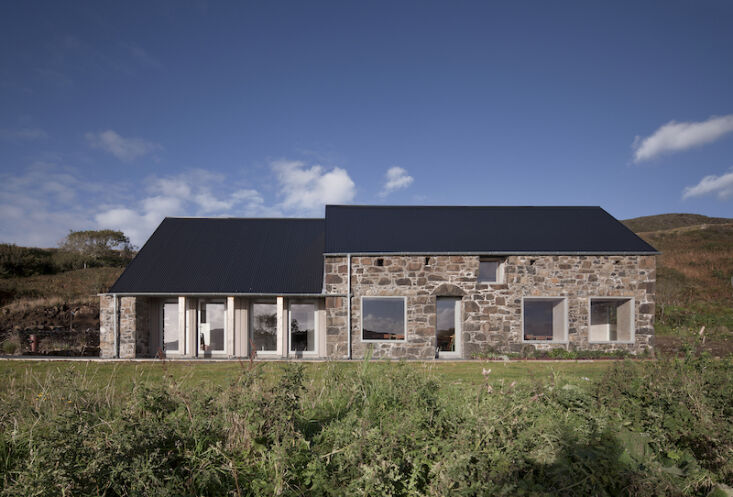 Planning permission for Croft 3 was relatively easy to secure. "We got 80 letters of support for the restaurant and 40 for the house," explains Jeanette, who, in a "bittersweet twist of fate", sadly lost both her parents during the build. "But the croft isn't isn't just about the restaurant," she explains. "Now, it's about bringing the land back to life, clearing the brambles so that I can plant trees and vegetables. There is a bigger picture."
For Edward, Croft 3 is the first completed project for Fardaa, the London-based architecture practice he founded in 2019. "This was a really different scale from anything I'd done before," Edward explains. "I've worked on enormous, complex buildings at David Chipperfield; I've designed hundreds of homes at Karakusevic Carson and Alison Brooks, but here the location, the scale, the usage—everything was different. Really I had to learn an entirely different design process." It's through that process that the project has come to embody Fardaa's holistic approach to design.
From this month, Croft 3 will be open for long Sunday lunches and evening meals three or four nights a week. Hungry locals and visitors alike will be able to bring their own bottle of wine along, hang up their coats, and huddle around the tables, savoring the space created by two friends.
For much more, follow @croft3mull.
(Visited 347 times, 1 visits today)