The small port city of Galway, Ireland, was recently named the European Capital of Culture 2020 for its innovation and art. But walk through its ancient cobblestone streets and you're more likely to encounter dark pubs, signs written in traditional Gaelic, and other markers of its long history—not so much modern design. So when I dropped into the yellow-and-white-fronted Coffeewerk + Press on a recent rainy Sunday in search of a good cup of coffee, I was delighted to discover not only a charming, modern cafe but, at the top of a gray-painted staircase, two tucked-away, quiet rooms of thoughtful design objects and local art. Housed in a 400-year-old building, Coffeewerk seeks to "create a dialogue between design/coffee and our local community," says owner Daniel Ulrichs. Here, a look inside the shop.
Photography by Nathalie Marquez Courtney, courtesy of Coffeewerk + Press, except where noted.
Above: The small coffee shop on the first floor serves elaborate, almost scientific pour-overs, in partnership with roasters such as Denmark's Coffee Collective, from behind French oak and steel cabinets. "Everything was custom made," Ulrichs says. "I wanted to create a space that was unique and inviting to people from all walks of life."
Above: Coffeewerk is an ideal haven for a cup of coffee—or tea—on a rainy day. The copper dripper is by Kalita in collaboration with Tsubame.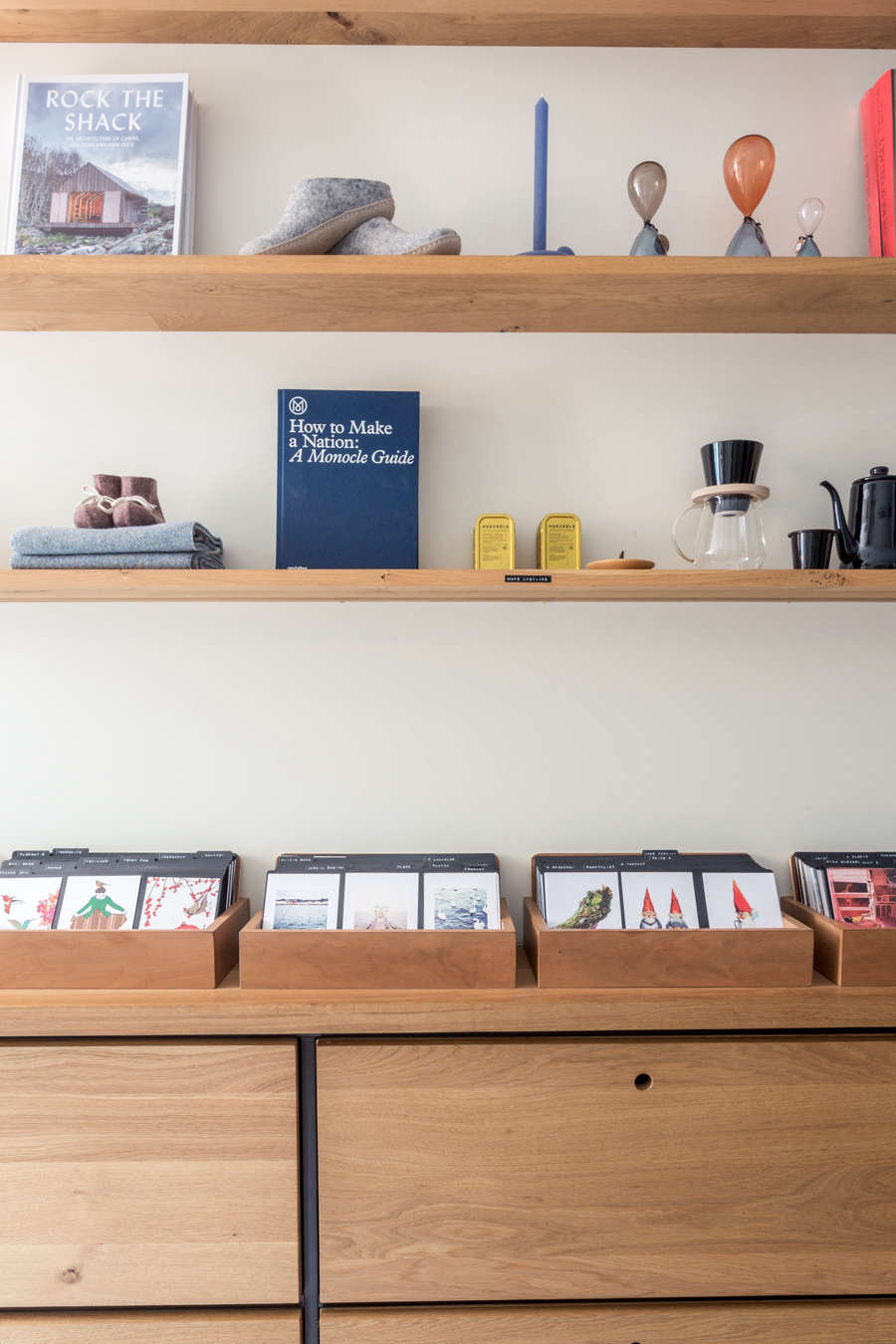 Above: The cafe offers a hint at the design shop hidden above. Tucked on the top shelf is a cornflower-blue tallow candle by Netherlands design company Ontwerpduo, a pair of felted slippers from Glerups, and sculptural hourglasses from Hay. Artists' work sold in the third-floor gallery is available in postcard format.
Above: Follow a winding staircase at the back of the cafe and you'll find yourself in the design shop. In one corner, the original walls were left exposed; wooden storage benches provide a quiet place to read design magazines.
Above: Geometric wooden candlesticks by Onshus and biodegradable bamboo-fiber cups and containers by Ekobo are some of the thoughtful objects on display. Photograph by Annie Quigley.
Above: Desk supplies and sewing scissors by Merchant & Mills are, like many objects in the shop, utilitarian but beautifully designed. Photograph by Annie Quigley.
Above: The third floor is a quiet art gallery. Vintage Ercol armchairs flank the original fireplace; a stretch of unpainted wood flooring is a quirky detail. Photograph by Annie Quigley.
Above: The gallery is a bright, quiet space above busy Quay Street. The mobile is by Flensted.
Above: Coffeewerk originally began as a publisher of local artists' work; the third floor is now dedicated to art prints, like this mushroom illustration (top left) by local Irish artist Jane Carkill. Photograph by Annie Quigley.
You need to login or register to view and manage your bookmarks.