Remember old-fashioned networking? It was through their kids' NYC elementary school that Jill Porter met Alexandra and Brian Tart. The couple—she's a social worker, he's a publishing executive—mentioned that they have a farmhouse in Dutchess County, New York, and on learning that Porter runs her own architecture firm, filled her in on their longstanding hopes and dreams for their place. That's how Porter ended up with a commission to usher the family's beloved 200-year-old retreat into the 21st century—and how the Tarts ended up with the ultimate headquarters for riding out the pandemic.
"Although stately and proud," Porter tells us, "the existing house showed its age: walls sagged, floors sloped, and an ill-conceived addition felt like a disjointed accessory. Perhaps most notably, the structure lacked any relationship to the beautiful property: it cocooned occupants in intimate, dark interiors that were charming on snowy days, but less so on glorious summer evenings." Porter's response was three-fold: she designed a new, two-story addition with a wrap-around porch; oriented all of the living spaces outward to the open fields; and fortified the existing structure "to not only stitch it to the addition but give it the structural prowess to last another 200 years."
Photography by Amanda Kirkpatrick, courtesy of Jill Porter Architect.
The newly fixed up tool shed is one of several out buildings on the almost four-acre property.
The exterior is painted in White Dove, the doors are Hale Navy, and the trim Black Panther, all from Benjamin Moore. The porch is Douglas fir finished in Arborcoat Natural. The Windsor bench was passed down from Alex Tart's mother and spray painted matte black.
The runner is from Homegoods and the basket from H&M Home
The pendants over the table and island are from Restoration Hardware. The interior walls are all painted Benjamin Moore Super White.
The hood and range are by Viking. The black sconces are from Schoolhouse Electric.
Note the wide pine floorboards and the sloped paneled ceiling. "In both height and width, the addition never outcompetes the existing structure, and the materials selected compliment the feel of the existing home without relying on nostalgia," says Porter.
"There was a stair to the third floor above, so the renovation really opened this space," says Porter, adding "As we started to peel away walls, siding, and floorboards, problems with the old structure revealed themselves. Our contractor had to reinforce floor joists, install tie rods to support to the roof, and repair the building envelope." For more, see 7 Things Nobody Tells You About Renovating an Old Farmhouse.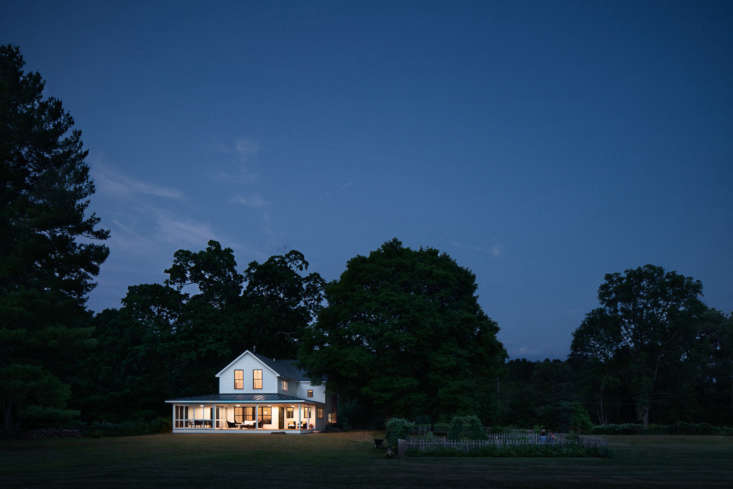 Before
After
Floor Plans
Here's are three more favorite farmhouse remodels:
Saved from Abandonment: A Historic Hudson Valley Farmhouse Receives the Ultimate Makeunder
A Renovated Barn by Berlin Star Architect Thomas Kröger
Kitchen of the Week: A Creative Couples's Swedish Farmhouse Retreat
(Visited 118 times, 4 visits today)