This content was produced as advertising by Remodelista in collaboration with Casper.
Back in 2014, Casper had a mission: To disrupt the overly complicated mattress industry with a one-size-fits-all mattress and a revolutionary direct-to-consumer sales model. The original Casper mattress did just that, earning accolades and nearly 30,000 reviews on Google alone with an average rating of just under five stars. But Casper didn't stop there: Having built its business on challenging the status quo, the brand continues to innovate with a newly expanded product line and a compelling update to the original mattress that started it all.
Read on to learn more about Casper's newest offerings.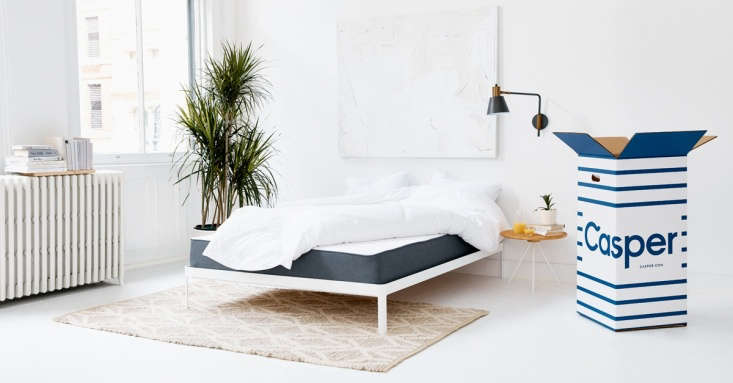 Casper engineers (NASA and IDEO alums among them) learned through their research that most sleepers prefer a "medium firm" mix of softness and support, which led them to develop the original Casper mattress (the Casper) with a proprietary hybrid foam construction: A 1 1/2-inch layer of high-density memory foam provides support while an additional layer of open-cell foam promotes ventilation to keep you cool at night. In its first update since the mattress launched, that construction now also incorporates a layer of Casper's new "zoned support" technology. Developed in-house by Casper's research and development team, the new technology allows for improved contouring at a sleeper's hips, shoulders, and core to relieve pressure and provide focused spinal alignment during sleep.
The signature Casper is offered at a third of the price of a typical luxury mattress; prices range from $595 for a twin to $1,195 for a California king.
In addition to incorporating new technology into its signature mattress, Casper has also expanded its product line to include its most advanced mattress yet, the Wave.
Complete with all the signature design elements of the Casper, the Wave also features a new top layer and contoured base. The Wave's ergonomic technology provides targeted support at 36 specific points that mirror the natural shape of the body and relieve pressure under the shoulders to aid in spine alignment. The Wave starts at $1,000 for a twin and goes up to $2,250 for a California king.
Casper mattresses are engineered in-house and designed and assembled in the US. All Casper mattresses ship free throughout the US and Canada.
Ready to try out Casper's brand-new technology for a better night's sleep? The company is offering Remodelista readers $50 off any mattress using code REMODELISTA.
(Visited 4 times, 1 visits today)