Milan-based A2BC Architects merged ancient and modern in their overhaul of a crumbling farmhouse on the terraced hillside of Cinque Terre in Liguria, Italy. They shored up the existing structure, plastered the interiors, replaced the flooring with polished concrete throughout, and added black steel windows to frame the views. Here's a look inside (and out).
Photography by Giovanna Silva, courtesy of A2BC Architects.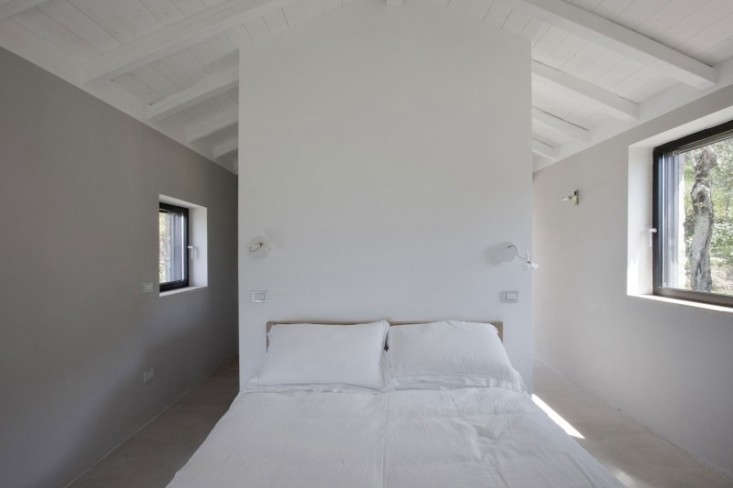 For more skillfully updated Italian farmhouses and villas, see:
And, over on Gardenista, check out Outbuilding of the Week: A Woodshed Transformed, by StudioErrante in Italy.
N.B.: This post is an update; the original story ran September 6, 2013.
(Visited 168 times, 4 visits today)
Frequently asked questions
Where is the Italian farmhouse located?
The Italian farmhouse is located in the Puglia region of southern Italy.
Who renovated the Italian farmhouse?
The Italian farmhouse was renovated by the owner, interior architect Benedetta Kassai and her husband.
What color scheme did the owner use for the interiors?
The owner used a bold and vibrant color palette, inspired by the sunny climate and natural surroundings of the region.
What is the inspiration behind the farmhouse's interiors?
The interiors are inspired by the local textures, patterns, and colors of Puglia's countryside, as well as the Mediterranean lifestyle.
What materials were used in the renovation?
The renovation included salvaged materials such as old wood beams and local stone, as well as hand-painted tiles, handmade textiles, and bespoke furniture.