Hito, a jewel box interiors/living shop in the small town of Pollenca, Mallorca, was opened in May by Gillian Conroy and Danica Wilcox, best known for their eponymous line of nature-inspired, heirloom-quality jewelry, Conroy & Wilcox.
In 2010 Wilcox fell in love with the Tramuntana Mountains and the artisanal traditions of Mallorca while visiting the Pedruxella Gran Farm, an organic farm. In 2012, she relocated to Pollenca from New York to open Hito, the first shop from this pair of former Condé Nasters.
Hito means marker or milestone, and Wilcox hopes that the carefully curated collection of objects and textiles at Hito can be markers in her customers' daily life, "the idea being that daily rituals can be hitos if one uses artful tools." All of Hito's offerings are handmade or have a handmade ethos. The shop stocks locally made textiles as well as unique pieces from France, India, and the States, including bed linens, hammam towels, and sandals from Liwan in Paris; silver-plated tea strainers from Bellocq in Brooklyn; their own line of beautiful jewelry; Small Trades cotton t-shirts made in Pennsylvania; bags from Mallorcan brand Mar de Coto; and aprons and table linens from Mallorcan textile workshop Artesania Textil Bujosa. Conroy and Wilcox are also collaborating with the oldest textile mill in Mallorca, Teixits Vicens, to create their own line of espadrilles and bags. Hito is located at 28 Roser Vell in Pollenca.
N.B.: If planning a visit to Mallorca and looking for accommodation, Pedruxella Gran Farm is available for luxe agroturismo rentals and the gorgeous Son Gener Hotel is rustic luxury at its best.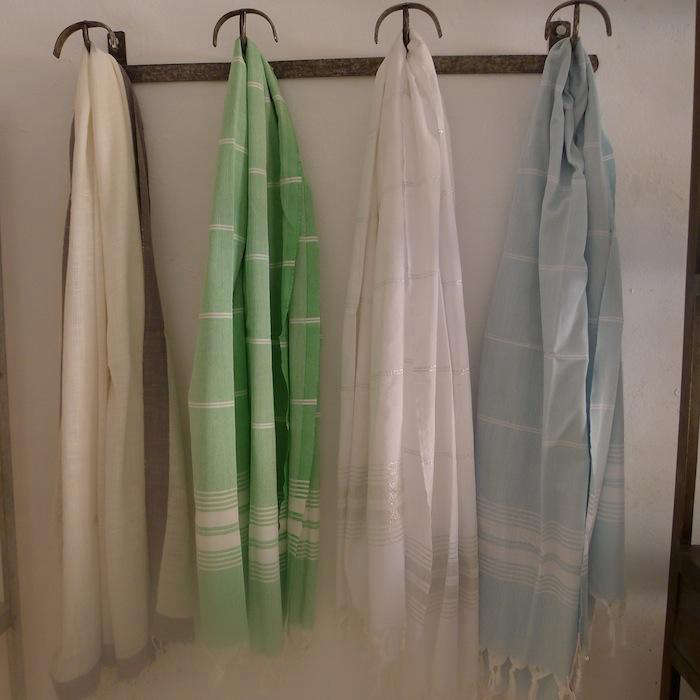 N.B.: Searching for more inspiring shops? See 718 images of Store Interiors in our Gallery of rooms and spaces.
(Visited 115 times, 1 visits today)