I was first introduced to a touch-activated kitchen faucet at Dwell on Design a couple of years back. I was intrigued. But why haven't these faucets taken kitchens by storm? My own theory is that the early designs weren't aesthetically appealing enough to win kitchen remodelers over. That may be changing. Here's a touch-activated faucet with a design we like.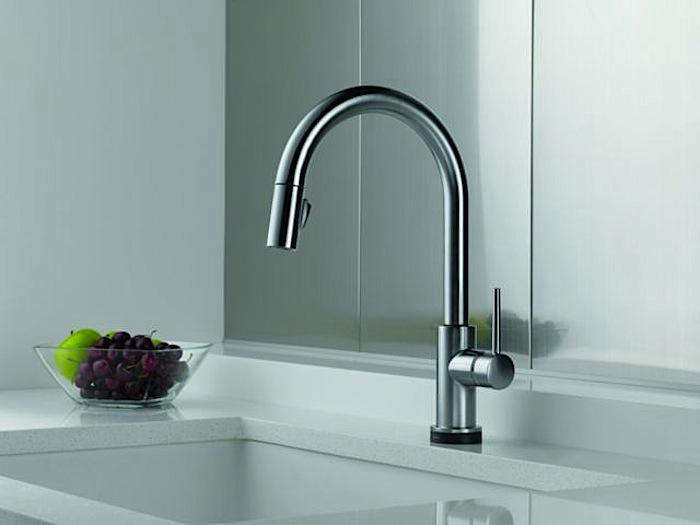 Above: The Delta Trinsic Single Handle Pull-Down Kitchen Faucet turns on and off with a touch anywhere on the spout or handle. Not only does this enable cooks with messy hands to turn on the faucet with a tap of the forearm, elbow, or shoulder, but also to turn off water easily when not needed between tasks; $382.20 at eFaucets.
Above: The faucet works using capacitance (the same technology that makes touch screens work). There is a low voltage electrical current that flows across the handle and spout of the faucet. As soon as this circuit is interrupted by contact water begins to flow. The Delta Trinsic Single Handle Pull-Down Kitchen Faucet is available in arctic stainless, chrome (shown above) and champagne bronze (shown below) finishes.
Above: Why not hands-free faucets? Delta researched this. It turns out that because so much activity happens in and around the kitchen sink hands-free sensing can activate water when it isn't needed. The faucet does have an automatic shutoff feature just in case it's lightly tapped by something that shouldn't tap it (a cat walking across the counter?).
Not ready to change your faucet, but intrigued by touch activation? Toto offers a Wireless Touch Faucet Controller that can be added to virtually any kitchen faucet. The touch "remote" pad can be placed within three feet of the controller box (counter, cabinet front, backsplash); $374.40 at eFaucets.
What's in our kitchens? Get a peek at the Remodelista Editors' Favorite Kitchen Faucets.
Finally, get more ideas on how to evaluate and choose your kitchen sink and faucet in our Remodeling 101 Guide: Kitchen Sinks & Faucets.
(Visited 148 times, 1 visits today)