Midcentury enthusiasts Isabelle Gilles and Yann Poncelet first met over a Colonel, a vermouth-and-lime cocktail—a momentous drink that would end up supplying the name of their company.
The two started Colonel a couple of years ago, restoring vintage furniture (see Furniture: Colonel in Paris). Today, Isabelle and Yann collaborate with French craftsmen to produce small-scale furniture collections. Drawing inspiration from 1960s American camping chairs and outdoor furniture, the aim of Colonel is to evoke the feeling of summer and its bright colors.
The couple's home in Paris features the same sprightly feel as their furniture collection ("A contemporary re-reading of this universe by mixing colors, rhythms, and patterns," as they say), achieved through an appealing mix of outdoor and indoor, high and low, and antique and modern.
Above: Yann and Isabelle in their living room.
Above: A corner of the living room features an evocative wall mural painted by Alice Gilles. A jute rug, midcentury coffee table, and a vintage sofa upholstered in green velvet all coexist with the mural's fantasyland.
Above: Bright orange garden chairs (akin to these Italian Wooden Deck Chairs) stand out in the living room.
Above: A 1960s bookcase sits in contrast to the formal hearth.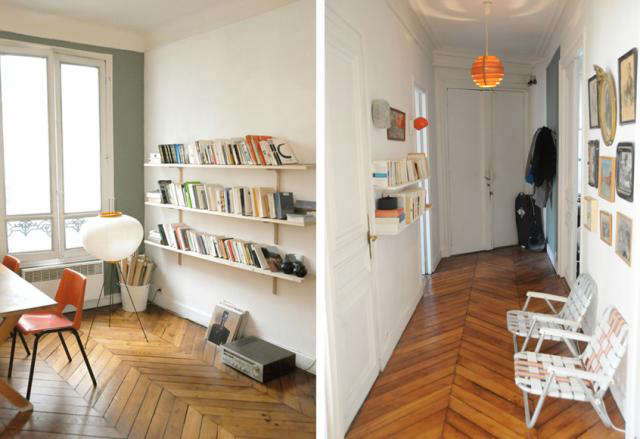 Above: A Noguchi Vitra Akari Floor Lamp (L) and cheap folding beach chairs (R) sit lightly in the space.
Above: Houseplants populate the light-filled dining area, adding a springlike note.
(Visited 8 times, 1 visits today)