To Mark Gibson and Maria McManus, both Irish expats living in New York, Montauk feels a bit like home: a tight-knit community surrounded by water, with golfing nearby.
Both entrepreneurs—he's a restaurateur, she runs a fashion marketing consultancy—the couple live in the West Village full-time with their two daughters. For a decade, they rented houses in Montauk for their summer holidays, but missed certain creature comforts (a decent mattress, water pressure in the shower) that their rentals couldn't provide. When they finally bought a Montauk home of their own—a circa-1970s builder's house in Ditch Plains—they turned to architect T. W. Ryan to lead its much needed remodel, plus an expansion.
His clients, Ryan says, wanted "a true family beach house, designed for weekends, that was simple and comfortable but distinct." For inspiration, he turned to the early Hamptons work of architects Richard Meier and Charles Gwathmey, who relied on common materials, simple color palettes, and "primitive forms" in their designs. Ryan's response "takes its cues from subtle detailing and a reduced material palette," he says, "using traditional means to define a primitive, yet contemporary, architecture."
Photography by Scott Frances, courtesy of T. W. Ryan Architecture.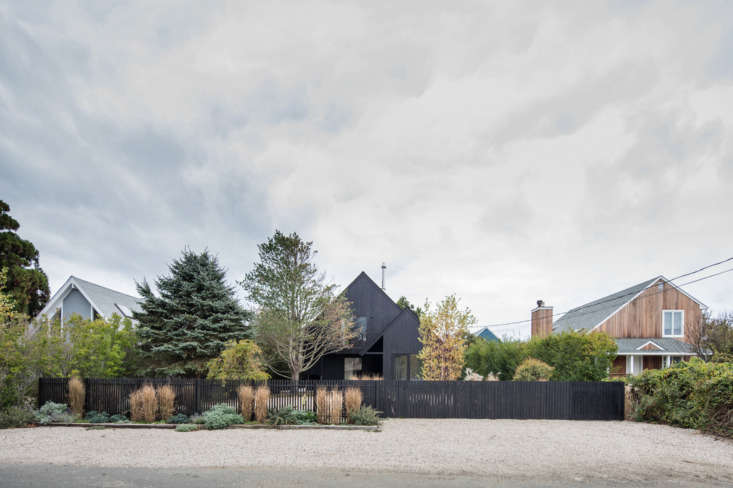 "The dark exterior merges the house into the shadows of the site," says Ryan, "while the interior conveys a certain ethereal lightness."
"One of the core design concepts was to limit the number of materials but strategically change their finish and dimensions to tell the narrative of the house," says Ryan. The top floor—the culmination of an occupant's walk through the house—is the brightest area: Its whitewashed walls and grayed wood floors transition into a solid white, gabled ceiling at their peak.
"Although it might not be readily apparent to the general visitor, the progression of the wood stains helped to give a more nuanced logic to the fairly compact interior spaces, without being visually overwhelming," Ryan says.
McManus chose all the furnishings and decor: "She has a wonderful and exacting eye," Ryan says.
N.B.: This post is an update; the original ran on April 27, 2018.
For more beach houses from across our sites, see:
You need to login or register to view and manage your bookmarks.