Every May, a consortium of designers and showrooms in LA splash out a three-day design event called Legends LCDQ (for La Cienega Design Quarter). Julie and I made the pilgrimage a week ago to take in the parties, panel discussions, and shop window vignettes–and we're only just now coming up for air. Here's a look at a few of the things we admired along the way.
The Windows
It's a tradition at Legends to invite designers to create showroom windows around a theme. This year's topic: Where Muses Dwell inspired odes to everyone from David Bowie to Edit Piaf.
Above: Cliff Fong's design for Dragonette recreates Gertrude Stein's salon. Photograph by Grey Crawford.
Above: For Hollywood at Home, Todd Nicky and Amy Kehoe of Nicky Kehoe, members of the Remodelista Architect/Designer Directory, built a Wes Anderson-style work bench vignette, model mansion and Italian orange Plexiglas lamp included : "We applaud Anderson's ability to express the quirky greatness of mankind in beautifully humorous ways." Photograph by Julie Carlson.
Above: Elizabeth Dinkel's tribute to Julia Morgan, California's First Lady of architecture, in the window of wallpaper and fabric specialist Nicky Rising. Photograph by Grey Crawford.
Above: At Woven Accents' vast showroom, husband-and-wife duo, Scott Jarrell and Kristan Cunningham, of design firm and Downtown LA shop Hammer and Spear, created a kitchen backsplash out of carpeting and a headboard from a jagged slab of marble as a salute to the Downtown LA arts district. "We aim to bridge the gap between Downtown and the Design Quarter by highlighting the renaissance of the Arts District." Photograph by Grey Crawford.
The Shopping
Above: UK wallpaper company De Gournay, longstanding makers of hand-painted Chinoiserie designs, branches out with a new pattern by Kelly Wearstler available at Nicky Rising. (Julie and I were also dazzled by De Gournay's patinated silver koi and other classics.) Photograph by Julie Carlson.
Above: We have our eye on Hammer and Spear's inventive use of marble at Woven Accents (we like the textured pillows, too). Photograph by Julie Carlson.
Above: Remains Lighting has a new line designed by Commune, including this Table Lantern.
The Crowd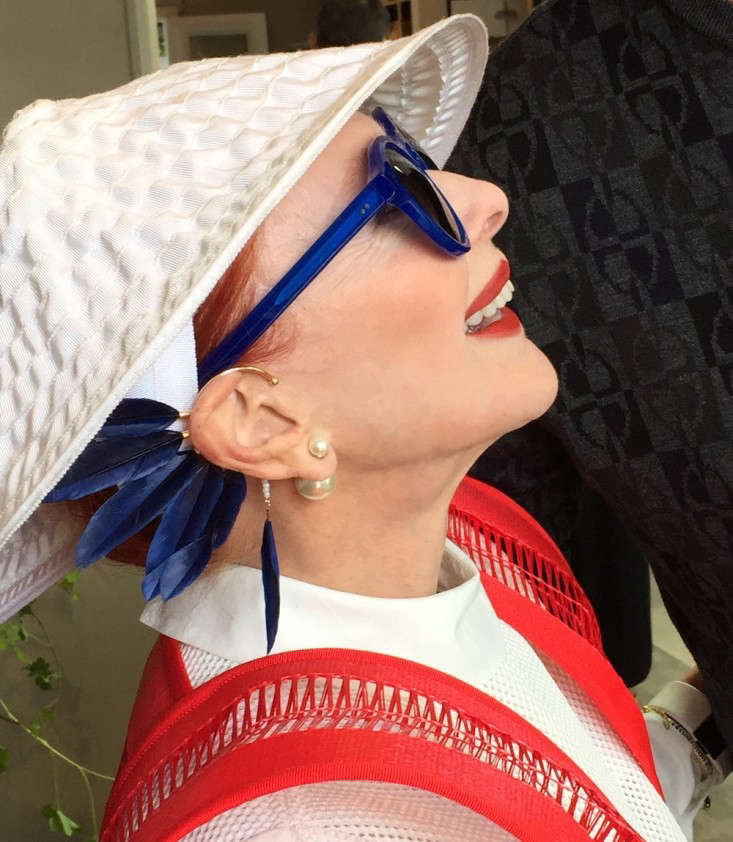 Above: Artist Valerie Sobel joined us for a courtyard lunch at Jonas, makers of memorably comfortable upholstered furniture. Photograph by Margot Guralnick.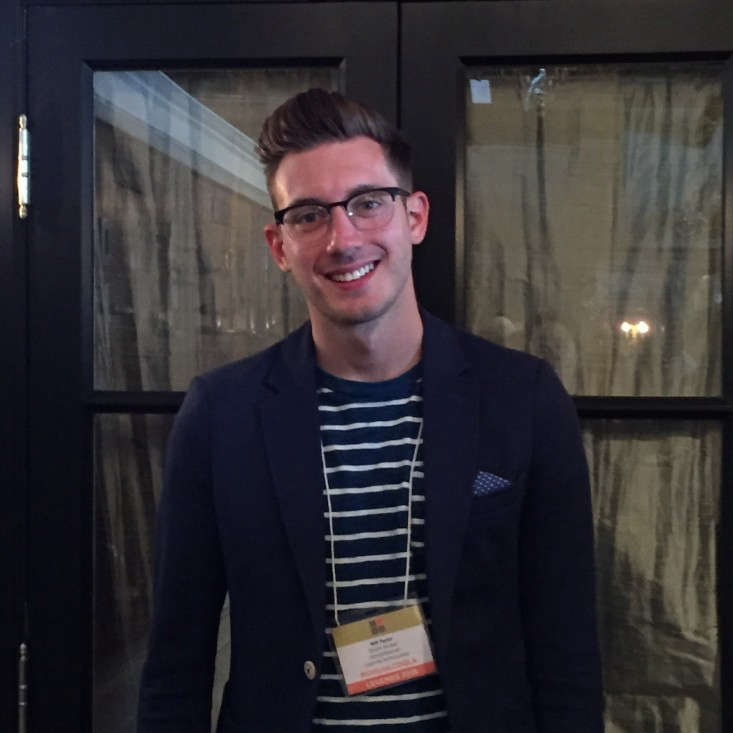 Above: We were thrilled to meet blogger and book author Will Taylor of Bright Bazaar–self-described as "a young chap from the UK who is unashamedly hooked on hue."
Above: It was an extremely well-groomed group.
Above: Lee Stanton hosted opening-night cocktails at his eponymous antiques shop, always our first stop on West La Cienega. And he set up a photo booth using some of his own inventory with a backdrop by Codor Design. (Lee also makes a line of natural polishing creams; see Furniture Care: Tips from an LA Antiques Maestro.)
Above: Julie and I with LA interior design duo Brandon Quattrone (L) and Mat Sanders (R) of Consort (Mat is also a creative director at My Domaine).
See more at Legends 2015 LCDQ.
(Visited 5 times, 1 visits today)