Alas, my attention to detail in the bath flags somewhere after the soap dish. But I do admire my friends who take WC-style all the way, right down to the very last detail—the toothpaste. Here are some of their favorites for tubes that are so stylish they earn a place outside the medicine cabinet.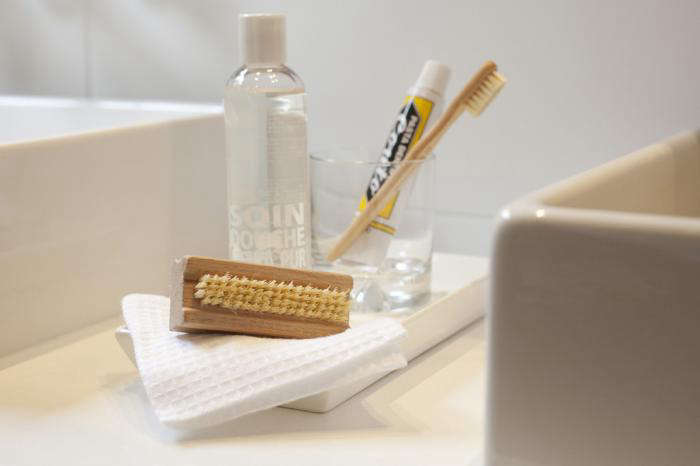 Above: My aspiration: a bath that's lovely all the way down to the toothbrush and paste. Image via Father Rabbit Limited.
Above: In 19th century Portugal, Victorian toothpaste was powdered and abrasive, made with things like brick powder and ground cuttlefish. In 1932, pharmacist Alberto Ferreira do Couto formulated one of the first mild, glycerin-based pastes that is still enjoyed today. Couto Toothpaste is available at Kaufman Mercantile; $7.95.
Above: In flavors like ginger mint, jasmine mint, aquatic mint, amarelli licorice, cinnamon mint, whitening and classic mint, Italian Marvis toothpaste is available at Bigelow Chemist; $10.50 for a 3.86oz /75ml tube. Photo via Drugstore Love in Australia.
Above: Invented in 1755 for King Louis XV of France, spicy Botot uses natural cleansing ingredients such as gillyflower, ginger, and cinnamon; $11.50 from The Motley.
Above: In production since 1898, the "pepto-pink" Euthymol comes in a vintage-style tube. Fluoride-free (please note, we are not coming down on either side of that debate). Euthymol uses thymol, a natural derivative of thyme prized for its antiseptic properties; $9.95 at Vermont Country Store. Image via We Are You Neak.
Above: Yes, I did start using Weleda diaper cream on my babies because the tube was attractive (it's a great product to boot). Perhaps I should try the Weleda Toothpaste; $8 via Weleda North America.
Above: Of course, let's not forget Tom's of Maine, a good ole (since 1970) American classic, shown here at my friend, Marnie's sink; $4.99 directly at Tom's of Maine.
Above: Fans swear by the whitening power and great taste of Denblan; $18.99 from Amazon.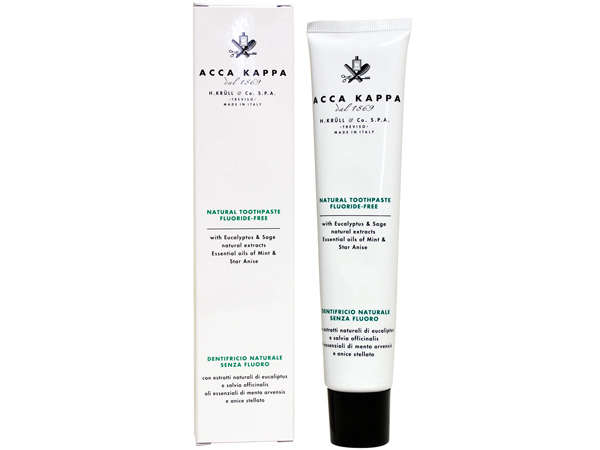 Above: Made in Italy, Acca Kappa is a fluoride-free paste, containing essential oils of mint, star anise, eucalyptus, and sage; $9.50 from Royal Shave.
Above: They had me at the name (it's my favorite bird): UK's Kingfisher comes in baking soda, aloe, and tee tree, fennel, and mint (with or without fluoride); £2.95 directly at Kingfisher Toothpaste.
Above: My friends may boast the prettiest toothpastes, but I do believe that I have found the most stylish floss, Le Négri made in Switzerland; £8.40 from Manufactum in Germany.
Finally, get more ideas on how to evaluate and choose the various accessories for your bathroom in our Remodeling 101 Guide: Bath Accessories.
N.B. Looking for more inspired bathroom basics? Browse all our favorite accessories for the stylish bath.
You need to login or register to view and manage your bookmarks.