As we wrestle our rooms into order for the winter festivities, we are inspired by the battalion of old-fashioned cleaning and organizing solutions being offered by the new West Elm Market. Here, the 10 items at the top of our pre-holiday SOS list.
Above: Iron and brass Heirloom Scissors, $14 and $29, from India—pretty enough to put on display and ever-reliable (we've had a pair for 20 years that remains shiny and razor sharp).
Above: Made by Wool Shop in Missouri, the Lambswool Duster naturally attracts and holds dirt particles and comes in three sizes, from $5 to $12, French maid's apron not included.
Above: At long last, the wood Ironing Board makes a comeback (this one is made of sustainable bamboo, $79.95) with all-cotton covers available in three tidy stripes.
Above: The wood-handled Metal Mop Bucket (medium and large, $16 and $19) makes a great wastebasket when it's not filled with soapy water.
Above: The wood-handled Sanitary Bowl Brush, $9, is made by Brooklyn-based nonprofit NYC Industries for the Blind.
Above: This neutral and natural—and long lasting—sponge makes our day. The Walnut Scrubber by Full Circle, $4, is fabricated from plant-based cellulose and has a walnut-shell abrasive surface.
Above: A Dust Pan, $34, for modernists, made in Germany of powder-coated iron with wood handles and coconut-skin bristles.
Above: The gym locker basket improved—the stainless steel Wire Mesh Tray ($29, other sizes and shapes available) is a good-looking container for laundry, magazines, toys, and towels.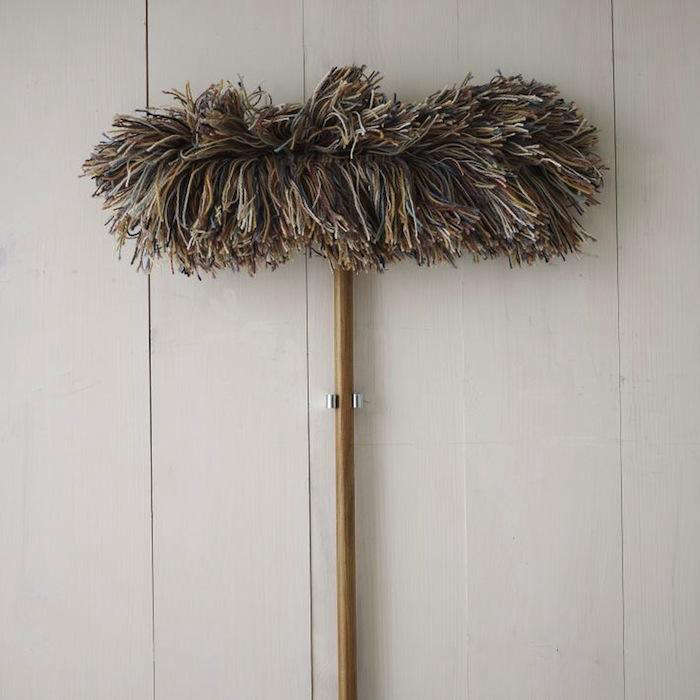 Above: The life-changing Wooly Mammoth Dry Mop, $40, is made by Sladust Mop Co. of Pittsfield, Vermont, a fourth-generation family firm specializing in all-wool cleaning tools that "draw dust like a magnet and hold on tight until you give the mop a shake."
Above: The Metal Mop Bucket, $49, in hard-to-find black stainless steel with wood handles. It's an all-purpose receptacle, good for big mop ups (or bathing small dogs), as well as for gathering firewood.
Enter the West Elm Market Giveaway to win $250 of clever, hard-working, time-saving, clutter-busting solutions for everyday living.