The humble wooden clothing rack is a design-worthy addition to your entryway or boudoir: here are 10 we've bookmarked recently.
Above: A rack with storage shelves, the made-to-order Blonde American Ash Garment Rack is a collaboration between New Zealand design shop Douglas and Bec and Sam Orme-Gee, a young Auckland-based furniture-maker who specializes in pieces that make subtle statements. Prices start at $1,190 NZD (about $1,015 USD) for a two-shelf rack (shown) from Douglas and Bec.
Above: Is there anything Ana Kraš cannot do? Best known for her sculptural hanging lamps made from thread and wire, she's equally versed as photographer, model, and artist's muse. Her inspired take on the clothing rack, the Ksilofon (Xylophone in Serbian), is made from "oak sticks" and colored plywood panels. Kraš came up with the design to satisfy friends' requests for an easy-to-assemble, well-made clothing stand–a foil to the "bad quality and complicated plastic/steel stands on the market," says Kraš. Contact Ana Kraš directly for availability.
Above: A celebrated Japanese designer living in London, Tomoko Azumi has become known for her rule-breaking sensibility and knack for marrying beauty with functionality. Her exceptionally lightweight Tra-ra Coat Rack is constructed from beech, a wood selected for its flexibility and strength; €159 from The Collection.
Above: The Tent Pole Clothing Rack, as its name suggests, was inspired by military tents. Created by LA-based designer Stephen Kenn, it's made of four military-issued tent poles with a welded steel shelf covered in vintage military canvas; $650 directly from Stephen Kenn.
Above: The Danes do it again: Nordic design house Nomess Copenhagen (not to be confused with Norm Copenhagen) specializes in household organization solutons. Unlike other wooden options, the Nomess Dress-Up Garment Rack has no base, and is pared down to the essentials. Constructed from ash with an aluminum bar on top, the rack is available in multiple sizes and colors (it's shown here in natural and orange). Contact Nomess for pricing and ordering information.
Above: The Servus (Latin for Servant) is a modern, minimalist rack by German designer Florian Saul. It leans against the wall supported by two small rubber feet; the black leather pocket at its base is for storing small accessories. For more space, Saul suggests combining two frames to create a more traditional upright rack shape; €399 through Bolia.
Above: From Japanese company Cosine, the basic maple Dress Luck Rack has a vegetable-tanned leather strap holding its A-frame in place; $266 through Rakuten Global Market.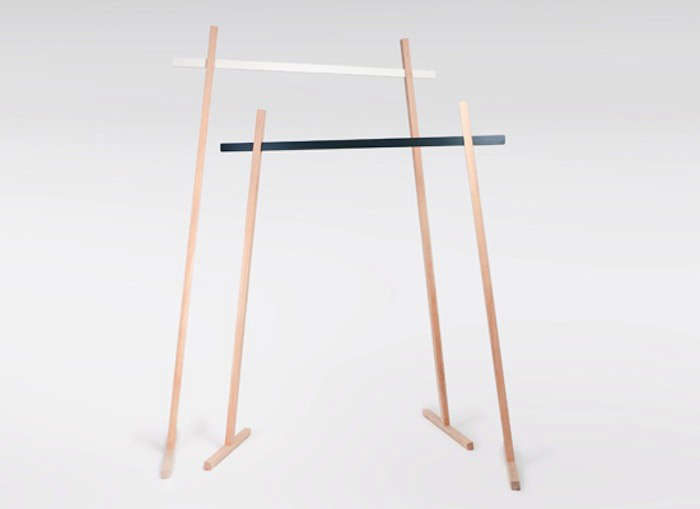 Above: Meet the new Mr. T: Kieser Spath's  Mr. T Clothes Rods consist of two T-shaped wooded strips jointed together by a metal rod in white or black; contact Kieser Spath directly for pricing and information.
Above: The Toj Clothes Rack is a product of Danish design favorite Normann Copenhagen. Created by Simon Legald for the company, the rack is made of ash with a steel shelf and bar that lend an industrial feel. Available in several sizes and colors, the large coat rack is €375 from the Finnish Design Shop (the small size, in gray, is $400 through Normann Copenhagen).
Above: We are, admittedly, a little jealous that the Natural Children's Clothes Rack is sized for kids. The four-foot-tall, hand-finished rack from Such Great Heights is made from West Australian Karri, a hardwood, and is also available in color dips of white, yellow, blue, and pale pink; $190-$210 AUD.
Prefer the traditional closet? See our post on 10 Modular Closet Systems from High to Low and Architects' 10 Favorite Closet Picks. On Gardenista, see how our team pared down excess clothing in Out of the Closet: The Essential Minimal Wardrobe Revisited.
(Visited 889 times, 4 visits today)