We recently had the opportunity to grill Gwyneth Paltrow on her favorite food shops, restaurants, family meals, cooking tools—and most notable culinary disaster. Here's her take on dining, cooking, and shopping in London and LA.
RM: Favorite family meal?
GP: Mexican is my fallback family meal; I have most of the ingredients stocked at all times. I make a quick guacamole, warm up some corn tortillas (I always have some in the freezer), black beans, and brown rice. I grill chicken or shrimp for the non-vegetarians and fry fish for my kids if I've got that in the fridge.
RM: Favorite family restaurants?
GP: In LA, it's the Brentwood Country Mart, Giorgio Baldi, and Gjelina (shown above). In London, I like Zuma for Japanese, Il Baretto in Marylebone for Italian, and Pizza Express (my kids' choice, not mine!).
RM: Favorite recipes for cooking-with-kids sessions?
GP: Vanilla cupcakes, Rice Krispies Treats, and Tate's chocolate chip cookies and vegetarian chili from My Father's Daughter.
RM: Favorite food shops?
GP: In LA, I love Santa Monica Seafood, the Santa Monica Farmer's Market, and Bay Cities Italian Specialty. In London, I shop at Speck Delicatessen, Borough Market (shown above), Lidgates, James Knight for fish, La Fromagerie for cheese, Whole Foods on Kensington High Street, and the Natural Kitchen.
RM: Go-to kitchen tools and accoutrements?
GP: Tongs and a linen tea towel (above: blue and white linen Tea Towels from Linen Me).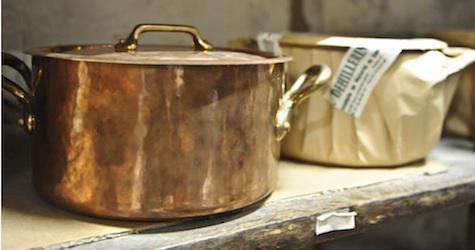 RM: Favorite pots and pans?
GP: Mauviel copper pots and All-Clad.
RM: What was the first meal you cooked?
GP: The very first meal I cooked was more of an assemblage. My father and I grilled Vidalia onions and mixed them into a salad with ripe avocado, tomatoes, and fresh basil.
RM: Favorite jet lag meal?
GP: Turkey meatballs.
RM: Notable culinary disaster?
GP: Years ago, before the internet, when I was first starting to cook, I decided to make eggplant Parmesan for a group of friends. I came home with all my shopping and realized I didn't have a recipe (this was pre-Epicurious). I decided to improvise, so I sliced the eggplant, skipped the all-too-important sweating and battering step, and stuck it in the oven and baked it. The result was putrid—and burnt. Only one friend faked it.
You need to login or register to view and manage your bookmarks.