For artist Diita Hoeber and her historian/writer husband Frank, home—an open, white, minimalist loft located in a former window factory—is where they work and live; all 3,000 square feet of it. Their secret to keeping it pristine and orderly is a smart storage system designed by Philadelphia-based architecture firm Qb3.
According to Patrycja Doniewski, a Qb3 founding partner, "the storage and display cases delineate the floor plan like chess pieces; each responding to the activity of the space it demarks." How's that for smart?
Photography by Todd Mason/Halkin Mason Photography.
Above: A library of art books has a natural adjacency to the kitchen. "The shelves near the small table are filled with art books so that the owners can pull them out to show company, or have something to browse while waiting for things to cook," Doniewsky says.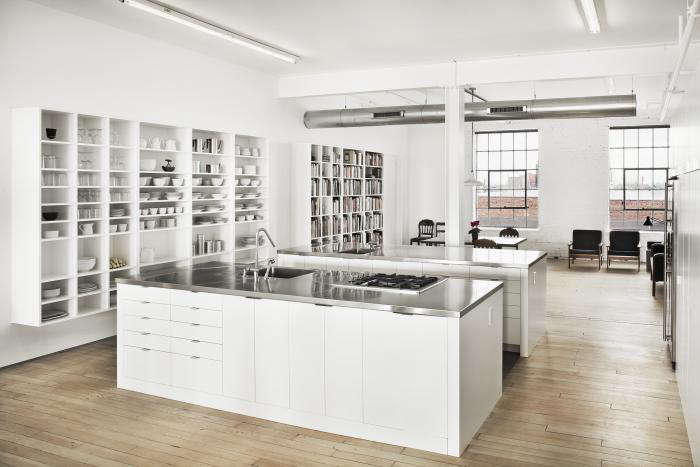 Above: The storage/display cases create zoned areas in the open loft.
Above: "Although beautifully composed, the white dishes are not a collection," Doniewski says. "It's much more about arranging objects rather than collecting objects, as the pieces are largely thrift store finds or hand-me-downs, like the collection of Stelton Cylinda-line stainless serving pieces inherited from Ditta's mother." The integrated stainless steel sink and counter were custom built; the faucet is from Aquabrass.
Above: At the owner's request, the architects used Pratt + Lambert Designer White #33-1 paint. "She felt that this 'white' has a light bulb behind it; some warmth, some glow, keeping the huge space from feeling too empty," Doniewski says.
Above: The floors are original maple which the architects sanded and whitewashed.
Above: "In the informal dining area, the display case on the right is filled with art books," Doniewski says.
Above: Frank Hoeber's office is delineated by more smart storage, providing him with a designated area to do his writing (read his musings on Hoeber). Ditta Hoeber's office is across the space on the opposite wall.
Above: An antique dining table becomes sculptural in its minimalist surroundings.
Above: The loft offers far-reaching views of the city of Philadelphia.
Who doesn't love a white loft space? See 4,481 images of White Loft Spaces in our Gallery of rooms and spaces.
(Visited 334 times, 1 visits today)