Creative director and designer Sarah Sherman Samuel and her husband, Rupert Samuel, an ad exec, like to tear things up together. After overhauling a Michigan lake cabin on their own, they moved on to their current project, a 1940s LA bungalow in need. We recently spotlighted their ingenious kitchen remodel using Ikea cabinetry and upgraded cabinet fronts: See The Semi-Handmade Ikea Kitchen. Today we're taking a look at their most recent accomplishment: a small, unused back bedroom transformed into a high-style master bath. We've been watching it in progress on Sarah's blog, Smitten Studio. Here are the results.
Photography by Sarah Sherman Samuel.
Above: Much like the kitchen, the new bath is a deft combination of modern/vintage and high/low elements that telegraph glamour. Inexpensive subway tiles and a vanity built from a 1950s credenza–"vanities can get so pricey," says Sarah, "I was looking for a more affordable and more interesting alternative"–are finished with splurge details such as brass faucets and a marble counter and shower ledge (made from leftover kitchen counter slabs). The hanging lights are the Fjord Rod Pendant, $149 each, by Cedar & Moss of Portland, Oregon–see A Bright New Lighting Company–who also supplied the Gold-Tipped Bulbs.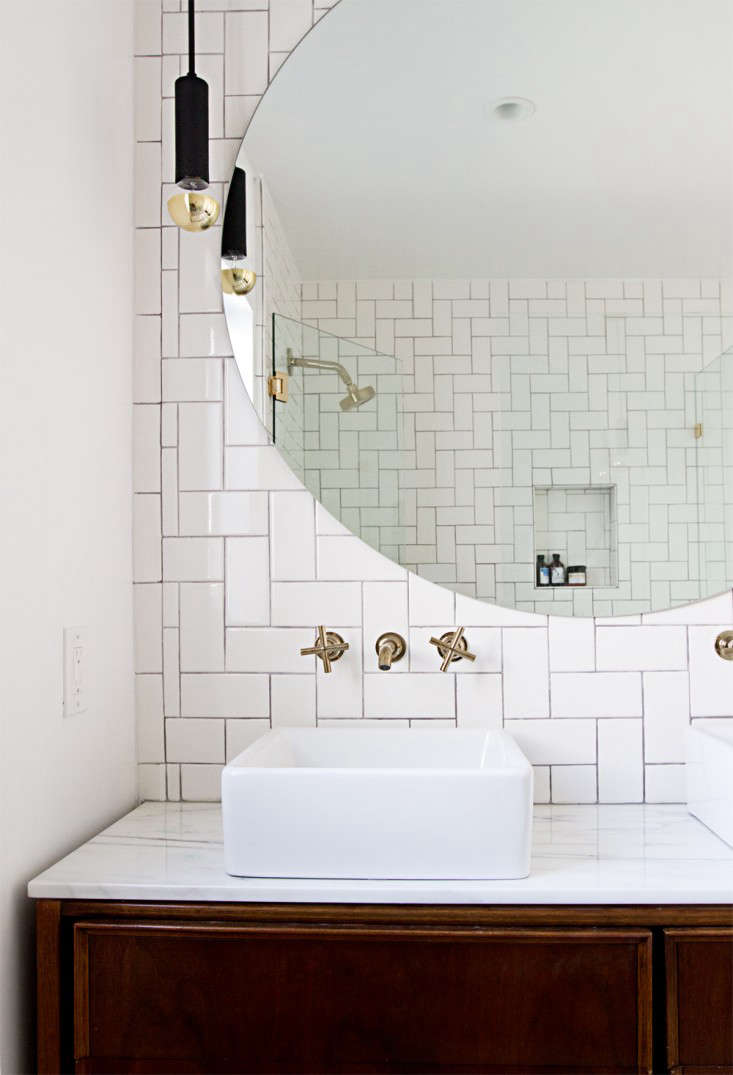 Above: The his and hers square basins are Kraus Vessel Sinks, $109.95 each, from Home Depot. They're paired with wall-mounted Kohler Purist Faucets in a finish called French Gold, $555.49 each via Amazon. "They were the biggest expense and also the most satisfying detail," says Sarah. The round mirror was custom made. The subway tiles are three-by-six-inch Daltile White Rittenhouse Square Wall Tiles from Home Depot with Delorean Gray Grout, which took two tries to apply correctly (there's always an unanticipated challenge, right?). See below for details.
After experimenting with different tile configurations in Adobe Illustrator, Sarah went with a herringbone pattern–"a classic for wood floors," she writes in her blog, "but I hadn't really seen it translated to subway tile (until I Googled it, that is, and found a bazillion examples…)." See our Remodeling 101: White Tile Pattern Glossary for more ideas. As for the palette, Sarah says: "I stayed with a monochromatic look that allows me to play up all the different patterns and textures." 
Above: The herringbone subway tile continues in the custom-built glass box shower. Our favorite detail: the tiled niche. The floor has classic white hexagonal tiles–Merola Metro Hex Porcelain Tiles from Home Depot.
Above: "Subway tile is simple, clean, white, readily available, and affordable (win, win, win, win)," says Sarah. The Kohler Purist Shower Head, $94, and Kohler Purist Faucet, $595.16, from Home Depot, are companions to the sink faucets. 
Before
Above: The room was one of two nearly identical spare bedrooms that Sarah describes as "little yellow boxes with two windows," each only big enough to hold a crib. The other bedroom is being extended into the backyard to "add a little breathing room." (Sarah and Rupert are expecting their first child.)
In Progress
Above: Sarah sourced the 60-inch-wide vintage walnut credenza from West Coast Modern, in Culver City, California. She and Rupert retrofitted it for the bath themselves: "That turned out to be a pretty easy project. We just cut off the legs, reinforced the back a bit, and secured it to the wall."
The trickiest part? "Adjusting the drawers so they could slide in and out around the plumbing was a one-day job: we cut out a large notch in the back of the drawer big enough to accommodate the pipes, and then we built up the sides of the notch to make a barrier so that things in the drawer don't fall through." 
Above: Sarah and Rupert lived in the house during construction; to speed up the process–which took four months and included work on other parts of the house–they contracted out the plumbing, tile work, and shower and counter installation. Shown here: The vanity with plumber-installed sinks and marble counter.
Above: The shower niche being built.
Above: The toughest part of the project? "No question is was the tile job," says Sarah. "After the grout went in, the color was blotchy and uneven. The guy who did it assured us that it just had to finish drying and would be uniform. Well, we waited and waited and the blotchiness never went away (it's a bit visible in this shot). We tried to get the guy back but could never track him down. Finally, just when I was about to give up and have our new shower and floors look like old, dirty ones, one of the crew who had been working on the rest of the renovation came in, scraped out all of the grout, and redid the entire space. And the angels sang."
Up next for Sarah and Rupert: their other bathroom, "a mauve two-by-two-foot box." Go to Smitten Studio to see more of their projects. Also, have a look at our posts Ikea Upgrade: The Semi-Handmade Kitchen Remodel and Reader Rehab: Cabin Color That Takes Its Cue from the Landscape.
At her online shop A Sunny Afternoon, Sarah sells household objects that she designs and her father fabricates. Gardenista singled out her Woven Wood Picnic Basket as a new classic.
You need to login or register to view and manage your bookmarks.