Dutch company Kids Case looks to modern artists as inspiration for their children's line.
Designer Jacqueline van Nieuwkerk and marketer Merel Verbrugge founded Kids Case in 2000, with their own young children as their muses. The two women were looking to create a children's line that lets kids "be themselves, so that when you see a child, you see the child first and not what he or she is wearing," as Nieuwkerk says. To both Nieuwkerk and Verbrugge this means straightforward basics made from cotton and wool blends, with "no frills or extras." Nieuwkerk draws inspiration from modern European artists, like French installation artist Michel François, and Amsterdam's vintage clothing from the early 90s. As Nieuwkerk says, "We always look to the designers and never to other children's clothing brands."
From the start, sustainability has been a concern. "We thought we would focus on humane production, because we felt that if we took care of people first, then the environment would follow," Verbrugge says. With each collection, Kids Case is increasing the percentage of organic cotton used, now up to 70 percent, sourced from socially certified suppliers in India.
With boutiques in the Netherlands and Belgium, Kids Case can also be found in New York City at Sweet William, Lucky Wang and online at Thumbeline.
Photography by Annemarieke van Drimmelen.
Above: Bright coral and pale blue fabrics are perfect for play clothes.
Above: Creative kids at play.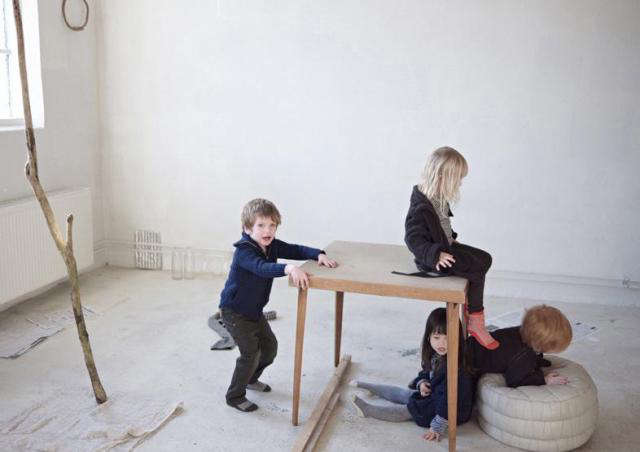 Above: In photographing the collection, Nieuwkerk says, "We tried to make the children feel at home; when they cry, we let them cry, when they want to play, we let them play."
Above: A young boy wears an Organic Polo Shirt; €35.
Above: A little girl wears a gray knitted hat and oversized sweater. The gray Sindy Cardigan from the recent Kids Case collection is 100 percent cotton and €69.95.
Above: The loose-fitting cotton Vivi Dress in pale blue is €49.95. The Sugar Dress, also a great play dress for girls, is $64 from Thumbeline.
Above: In order to capture moments like these, Nieuwkerk and Verbrugge tried to be as personal as possible. This meant no makeup or elaborate styling for the children.
(Visited 39 times, 1 visits today)