Two venerable kitchen brands, Le Creuset and Emile Henry, have introduced gray into their color repertoire. We like a touch of gray in a colorful kitchen (imagine a stack of gray cereal bowls in Sarah Jessica Parker's Red Kitchen featured earlier this week).
Below: Le Creuset's Oval and Round Dutch Ovens in slate is available at Williams-Sonoma; prices range from $210 to $260, depending on size.
Below: Emile Henry's take on slate. From top to bottom: cereal bowl ($15), oil cruet ($33), and the small salad bowl ($20) at Emile Henry.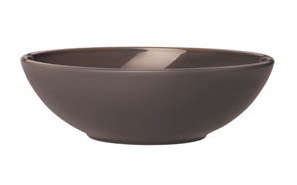 Below: The Staub Cast Iron Round Teapot
in graphite gray; $114 at Amazon.
Below: KitchenAid's 5-quart Artisan Mixer
in imperial gray is $299 at Amazon.
(Visited 19 times, 1 visits today)