Housed in a former laundry from the 1930s, located in the Petite France quarter of Strasbourg, La Corde a Linge features interiors and graphics by Lyon-based My Beautiful (most notably a clothesline complete with wood pegs and the daily wash). The restaurant features two distinct aesthetics: in the older portion of the building, a rural wash house look prevails (baskets, spools of thread, and brick walls), while the newer part features an industrial look (Marko chairs, stenciled graphics). For more information, go to La Corde a Linge.
Above: Classic cafe seating outside the restaurant.
Above: Vintage drawers create an ad hoc storage unit near the cafe entry.
Above: Whitewashed stenciled walls and Marko chairs add an industrial note to the more modern dining area.
Above: Spools of thread as decor reference the building's past.
Above: Tables feature graphic lettering.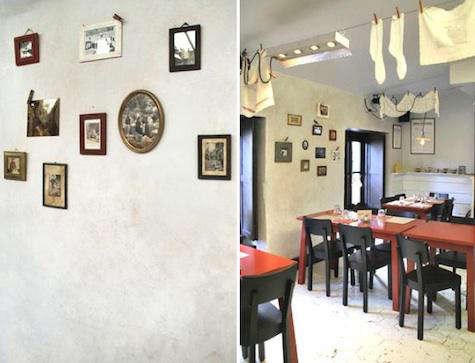 Above: The older part of the restaurant features a rural country look: laundry lines, baskets, Tolix stools, and sepia-toned photography.
Above: A brick wall is painted white with stenciled graphics.
Above: A vintage iron spiral staircase leads to the downstairs WCs.
(Visited 15 times, 1 visits today)