When architects Solveig Fernlund and Neil Logan undertook a gut renovation of a historic Brooklyn townhouse for a Swedish family, they turned to the classic hardware of Scandinavia, D Line. Manufactured in Denmark to exacting standards, the collection is the work of Danish architect and industrial designer Knud Holscher and remains much unchanged since the 1970s. "D Line is so common in Scandinavia, it's almost generic," adds Solveig, "but it's very high quality."
Throughout the house, Fernlund and Logan used D Line's Lever Handle, one of the company's bestsellers available in a range of sizes–"they're used in the bathrooms in the Denmark airport," says Neil. And in the clean-lined, stripped-bare master bath, they used D-Line's elemental stainless steel handles, knobs, and toilet paper holder, introduced in 1970 in Denmark and still in production.
Go to D Line to view the entire catalog and find a dealer near you. For US price quotes and orders, send a query to Ironmonger in Chicago, which carries the line.
Photograph by Matthew Williams for Remodelista.
Above: A sliding wood door–painted a shade of green copied from Le Corbusier's palette (and offered by Swiss company Kt Color)–leads to the master bath in an 1840s Brooklyn townhouse remodeled by architects Solveig Fernlund and Neil Logan, each of whom now operates their own New York firm. The door has a recessed Flush Pull Handle made of satin stainless steel by D Line of Copenhagen.
Above: To keep the bathroom light and bright, the architects used a clear glass shower wall and milk glass tiles from Urban Archaeology. (A caveat: the glass had knife-sharp edges and unexpectedly required laborious sanding.) The Raindance Showerhead is by German manufacturer Hans Grohe.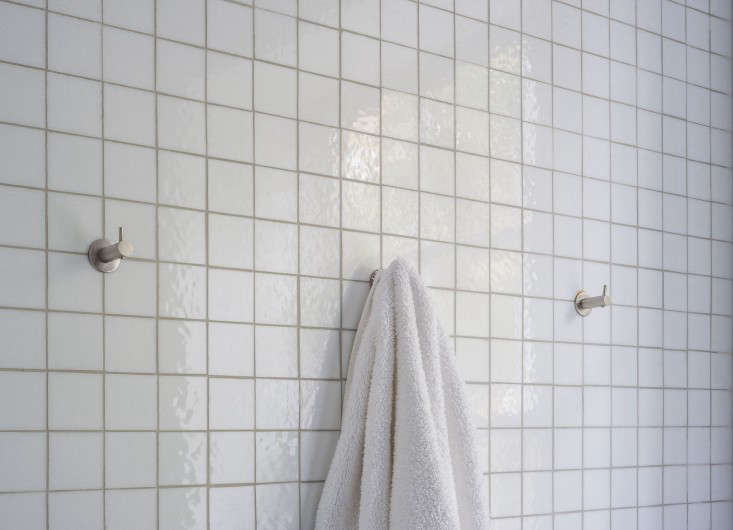 Above: In lieu of a towel bar, D Line Coat Hooks in brushed stainless steel with signature "coat pin" line a wall.
Above: The his and hers trough sink is Duravit's Vero design and the faucets are the iconic Vola HVI tap designed in 1968 by Arne Jacobsen.
Above: The toilet is Duravit's Happy D model. See our post, 5 Favorites: The Best Water-Conserving Toilets for more ideas.
Above: The architects installed the D Line Spare Toilet Roll Holder in brushed stainless as a toilet roll dispenser. The design went on to be much imitated: see our post 10 Easy Pieces: Modern Toilet Paper Holders for lookalikes.
Above: The radiant-heated floor is tiled in balsatina, "a stone found in Italian train stations," says Solveig. Sourced from Stone Source, it's applied in two sizes: large squares for the main floor and smaller ones in the shower area (so the architects could create the right pitch in the subfloor for a shower drain).
Above: In another bathroom, and throughout the house, Fernlund and Logan used D Line's Lever Handle, one of the company's bestsellers available in a range of sizes.
To see Solveig Fernlund and Neil Logan's design for the first floor of the townhouse, go to A Scandi Kitchen in Brooklyn. The house's attic bath–one of our all-time favorite designs–is featured on pages 238-241 of Remodelista: A Manual for the Considered Home. Click here for more of our hardware finds.
Finally, get more ideas on how to evaluate and choose the hardware items for your bathroom in our Remodeling 101 Guide: Bath Hardware.
(Visited 35 times, 1 visits today)