When Julie Elliott decided to update the look of In Fiore, her small cult parfumerie in San Francisco, she enlisted her good friend and neighbor, designer Matt Dick. "I wanted the feel of an apothecary, yet something modern with a subtle nod to Japan," she says.
"Matt and I are big fans of Charlotte Perriand, especially when she began incorporating a Japanese aesthetic into her work," she says. Along with local furniture maker, Sebastian Parker, Elliott and Dick created a space that's a mix of studied elegance and moody glamor with Meiji era overtones. The perfect backdrop for a parfumerie where faint whiffs of jasmine, neroli, and rose permeate the air. For more, go to In Fiore.
N.B. An invitation to local shoppers: On February 14th, In Fiore will be serving Negroni cocktails in a little celebration of amour. Swing on by.
Photography by Mimi Giboin for Remodelista.
Above: Julie Elliott in front of a custom jewelry display case. Elliot worked in the fashion industry prior to founding In Fiore. She equates working with oils as akin to working with gems. "it's so precious. Flowers are the most expensive materials to work with in this business."
Above: A mercury glass vessel purchased from March sits atop a walnut counter with black marble top. Elliott lived in Japan and was inspired by the traditional black tiled roofs in Kanazawa for her choice of color for the walls. She conferred with G & R Paint Company to get the right shade, a custom mix of midnight overtones. She explains "When it is dark at night I feel the violet tones, but in the day it has a vibrancy to it and feels more deep teal."
Above: The shallow cupboards with large glass vitrines were inspired by the narrow cupboards for storing calligraphy in Japan. The black walnut shelving was hand made by woodworker Sebastian Parker and lines the wall.
Above: "I knew I wanted a dark wood with gold and black tones to highlight my packaging," says Elliott of her choice of eastern black walnut.
Above: The narrow strips of wood surrounding the case are a reference to the thin shoji frames in Japan. It took Parker several months to do all the joinery. Having handcrafted pieces was integral to the design for Elliott, who notes, "All my products are made by hand so the design had to go with my belief system."
Above: One of the compacts of Parfums Solides from the In Fiore collection. Elliott's favorite is the Saffron of Kashmir.
Above: A detail of the custom leather mat that sits atop a low walnut base, purposely low In keeping with the Japanese aesthetic where everything is closer to the ground. "Matt has a vintage French leather wrestling mat, so we had someone who makes leather saddles here in the Bay Area make this by hand," says Elliott.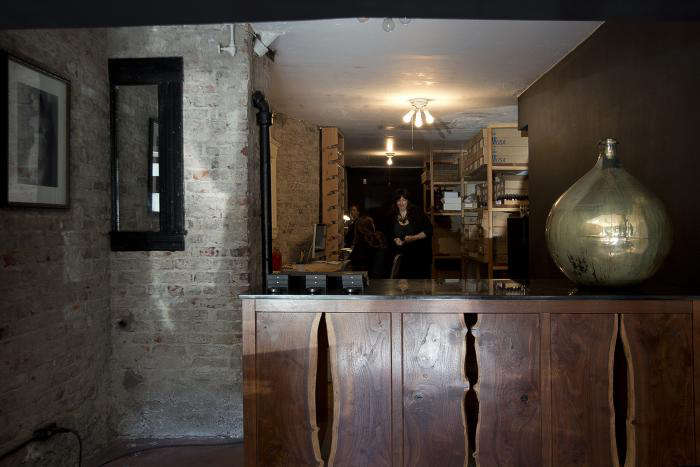 Above: The gold and black echo the tones in the claro black walnut salvaged from a felled tree.
Above: The entrance to the store; three large amber apothecary bottles from Japan are displayed in the window. "I like the feeling that the wall is floating," notes Elliott of the wall-mounted display shelving.
Above: The black painted store front.
Learn more about designer Matt Dick or peruse our San Francisco City Guide for more unique stores.
(Visited 192 times, 1 visits today)