John and Juli Baker, the couple behind Mjolk in Toronto, have a refined, specific take on design, centered on a mix of Scandinavian and Japanese aesthetics. The two of them curate what we consider to be one of the best design shops anywhere (proof: it's where Julianne Moore found her flatware a few years back).
When we launched Remodelista in the aughts, we communed with John and Juli online, and when I was in Toronto a few years ago, I stopped by to take a tour of their apartment above their shop (see A Scandinavian-Inspired Kitchen with Hints of Japan). So when John emailed me a while back to tell me the couple had impulsively bought a decrepit stone house in the countryside north of Lake Ontario, we were curious.
"We shouldn't have even been looking," John says. "At the time, we had a weekend cottage on the shores of Lake Huron (see O Canada: Mjölk's Renovated Scandi-Style Cabin on a Lake), which we've since sold, but we were longing for a rural Little House on the Prairie kind of experience for our children. Juli and I both grew up with a strong connection to nature and rural life, literally washing laundry in the stream with a washboard."
Join us for a tour:
Photography by Juli Baker.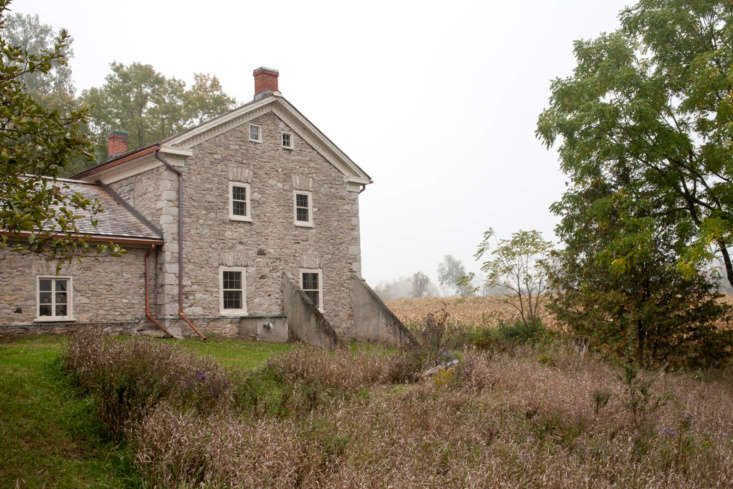 "We sourced the salvaged fireplace surround tiles from Lindholm Kakelugn, a Swedish reclamation company, and we worked with our builder to install a new masonry firebox and a flue channel. There's no industry around this type of project, you have to engineer it yourself. Once the interior was completed, we reassembled the tile according to a template that Lindholm provided us with and added a brass hearth." (For a full account of the process, from start to finish, read Juli's account on Mjolk).