Astier de Villatte's delicate, ghostly white ceramics look straight out of Marie Antoinette's dairy at Versailles. In fact, the company has only been producing its 18th-century-style faience since 1996—and we've been raptly following from the get-go. What began as artists Ivan Pericoli and Benoit Astier de Villatte's experiment in clay has become one of the leading creative ateliers in Paris, makers of everything from our favorite notebooks to pepper-scented dish soap, all produced locally using Old World techniques and the prettiest packaging.
Ivan and Benoit recently took over a former Saint Germain bookstore, on Rue de Tournon in the Sixth Arrondissement, and transformed it into their second Paris boutique. On arrival in Paris last week, I followed the churchy scent of incense—Astier de Villatte's Opéra—straight there.
Photography courtesy of Astier de Villatte.
Above: Astier de Villatte's new location and its existing shop (on Rue Saint Honoré, near the Louvre) both have facades that are so dark green they're almost black—and look as if they've been in business for centuries.
Above: For the opening on Rue de Tournon, our floral stylist friend Livia Cetti of the Green Vase in New York was flown out to create this Dutch still-life-inspired paper arrangement. (We recently visited Livia's own house—see Bloomsbury in the Bronx.) The decoupage plates and paperweights on the table are by John Derian, who carries Astier de Villatte's ceramics in his shops in NYC and Provincetown.
Above: Ivan and Benoit and their crew worked on the space for several months, removing walls, restoring uncovered surfaces, and building wooden display cabinets.
Above: The tiled floor—in the same block pattern found on Astier de Villatte's notebooks that fill the shelves—came with the space, "as if a sign from destiny," they say.
The company recently acquired SAIG (the Société des Ateliers et Imprimeries Graphiques), the linotype printing firm that makes its journals, a last-of-its kind operation in France that was in danger of closing. The purchase inspired Ivan and Benoit to expand their print work, and they've just come out with My Vie à Paris, an entertaining insider's guide to the city, due to be translated to English this summer. "The most obvious advantage of this unusual volume is its physical appearance," they write."With gilded edges, it looks deceptively like a hefty novel. Which allows the reader to avoid being seen as an irksome tourist."
Above: The tile shifts to the original wood chevron flooring around the potions section of the store. The softly metallic wallpaper was revealed when the walls were "scalped," and the same dark green used on the exterior appears on the wood paneling.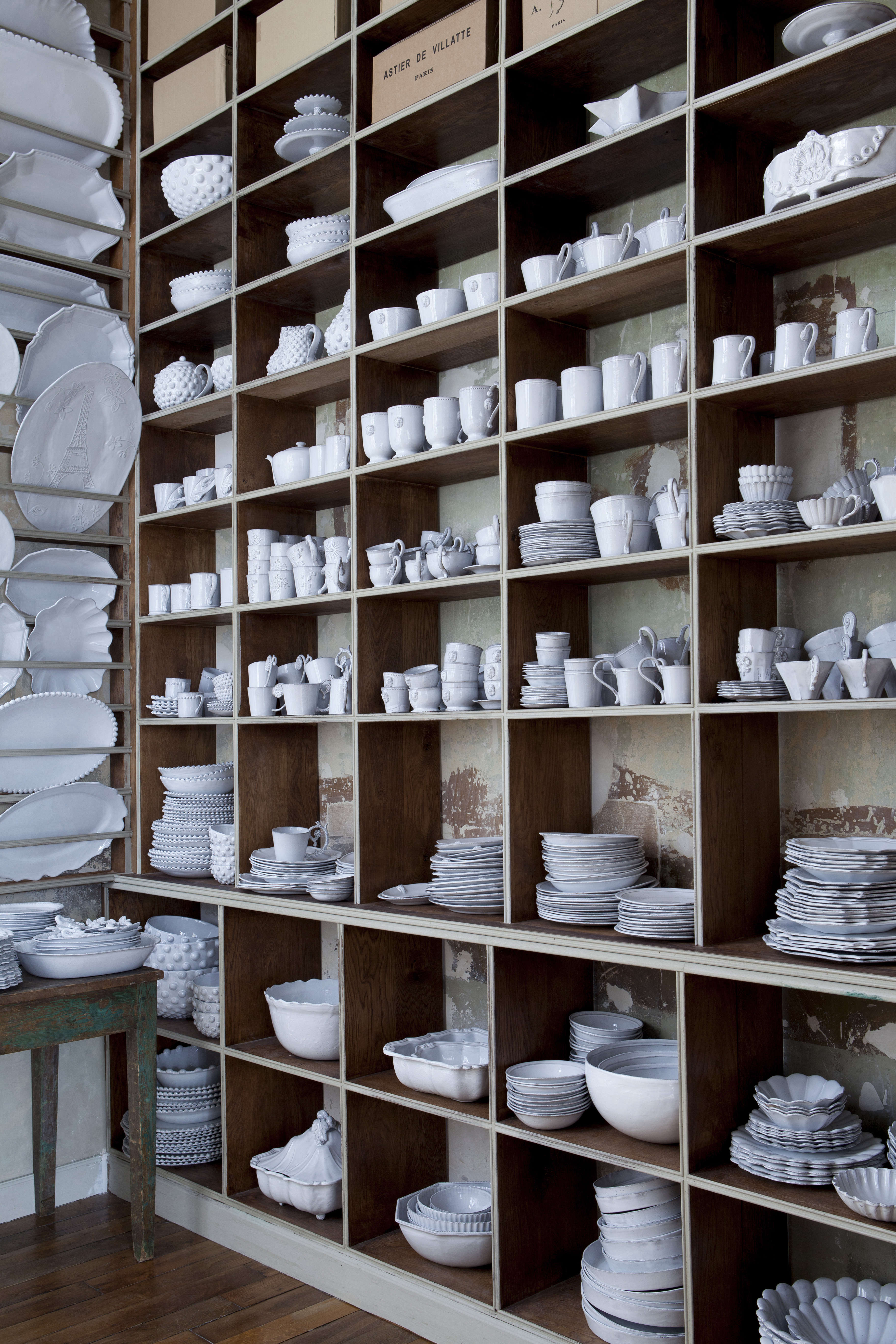 Above: Astier de Villatte's signature wares—black terracotta with a milky glaze—are on the pricey side because they're handmade in a workshop in Paris's 13rd Arrondissement to exacting standards. The majority of the team of artisans is Tibetan:"This happened somewhat by chance. At the recommendation of a friend, we hired a Tibetan who turned out to be very handy. He recommended another and so on."
Above: In the back of the shop, a tufted settee—from the John Derian Furniture Collection by Cisco Brothers—stands under a wall of newly installed stained glass windows. Created by the Atelier du Vitrail de Chartres, the windows are painted by Pierre Carron, a disciple of Balthus who was Ivan and Benoit's teacher at the École des Beaux Arts.
Astier de Villatte is located at 16 Rue de Tournon.
Take a look at the first shop here, and go to Glamorous Soap Dishes to see one of our Astier de Villatte obsessions.
(Visited 412 times, 1 visits today)