"Working on an interior space is a nervous journey," says La Garí§onne founder and creative director Kris Kim of her new store on Greenwich Street in New York's Tribeca neighborhood. It's the first retail outpost for the fashion brand, which began as an online-only destination almost a decade ago.
Entering the shop, designed by architect Solveig Fernlund, is like walking into the loft of that friend whose style–thoughtful, informed, under-the-radar, a touch boyish–you secretly want to copy. "La Garí§onne is fashion for the thinking woman. It's not just about what's in the closet; it's the whole environment. It's just as much about the chair and the antique mirror," Kris says.
"Solveig is an architect who really understands fashion," Kris says. Solveig let the brand's in-house collection, called Moderne, inspire the textures and palette of the interior: chalky white paints, navy canvas, and an anti-lacquer approach to furniture. Says Solveig: "There is something very elemental about the Moderne collection. The pieces are like smocks. They have a sensuous simplicity that we all want because we live such busy lives." 
During the conceptualization and eight-week construction process, Kris and Solveig never thought of the store as a retail project but rather as a home. The spare interior highlights each piece of furniture and considered detail. Kris says, "It points to this idea of less is more. When you are thinking about that, it's hard–it's not a principal that is usually applied to retail. We were interested in how fashion and our daily lives converge in a space that is not overly cluttered but still humble in a way."
Photographs by Michael A. Muller for Remodelista.
Above: The exterior of the shop is understated, with the shop name printed in tiny lettering at the bottom of the glass. "We didn't want anything in the front, nothing like a traditional window display," Solveig says. "Just a hint, enough to know that the store sells clothing. It's a minimal way to a tell a big story." 
Above: The wall-to-wall inset floor mat, made of coconut fiber, serves as a practical welcome mat for shoppers. After almost 10 years of getting to know the La Garí§onne woman (and man; the store carries a range of menswear too) online, Kris is now able to meet her customers in person. "They are real women to me," she says. "To see how they think and the way they want to dress is a lot of fun. They are really intelligent, stylish, and confident."
Above: A constellation of incandescent light bulbs is the only light in the front of the store. "They warm the space up," says Solveig, who used the Leviton 9874 Porcelain Outlet Lamp Holder for each.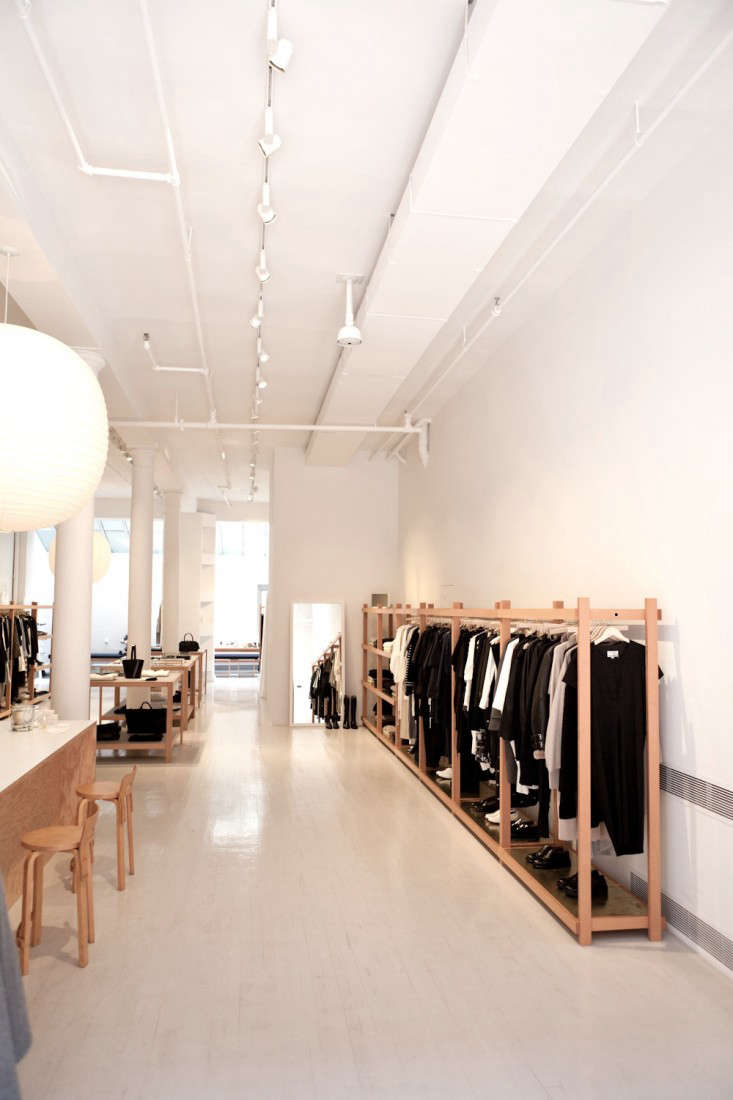 Above: Before it was La Garí§onne, the long loft-like building functioned as administrative offices for a dance company and before that as a bakery.
Above: Solveig designed custom clothing racks from solid Douglas fir–"no veneer, the ways things used to be made"–which were crafted by a New York City–based woodworker.
Above: The front counter is built from marine-grade plywood that "is the same material that Donald Judd used," Solveig notes. Kris sourced a pair of Alavar Aalto stools from 1st Dibs after months of online sleuthing.
Above: Solveig played with the layering of chalky white tones, starting with the floors painted with Fine Paints of Europe Hollandlac Traditional Oil Paint in their factory color, 7034 Winter Sky. The walls are painted in Benjamin Moore Decorator's White.
Above: The Jean Pocket Pullover and the Jean Rollneck Pullover, both in Chalk, are stacked on custom shelving. The shelving is inlaid with a natural, unlacquered brass.
Above: The central display tables running the length of the store are lined with a thick, pale gray felt. "That decision happened very quickly," Solveig says. "I didn't want to use more wood, and I think felt is a nice background for jewelry. You can also lift it off and there is laminate underneath."
Above: "The shop's kitchenette is a working kitchen–we offer tea and water whenever it makes sense," says Kris. The countertop and shelf are made of marine-grade plywood and Italian laminate from Abet Laminati in an icy gray eggshell finish. Solveig spec'ed a faucet by Chicago Faucets: "It's American, good quality, and institutional in a way."
Above: A series of tiny bowls and cups from Dutch artist Kirstie van Noort, who applies oxides as paint to the porcelain clay.
Above: Black granite trivets and Carrara marble candleholders from Fort Standard are paired with testers of Aesop hand soap near the sink.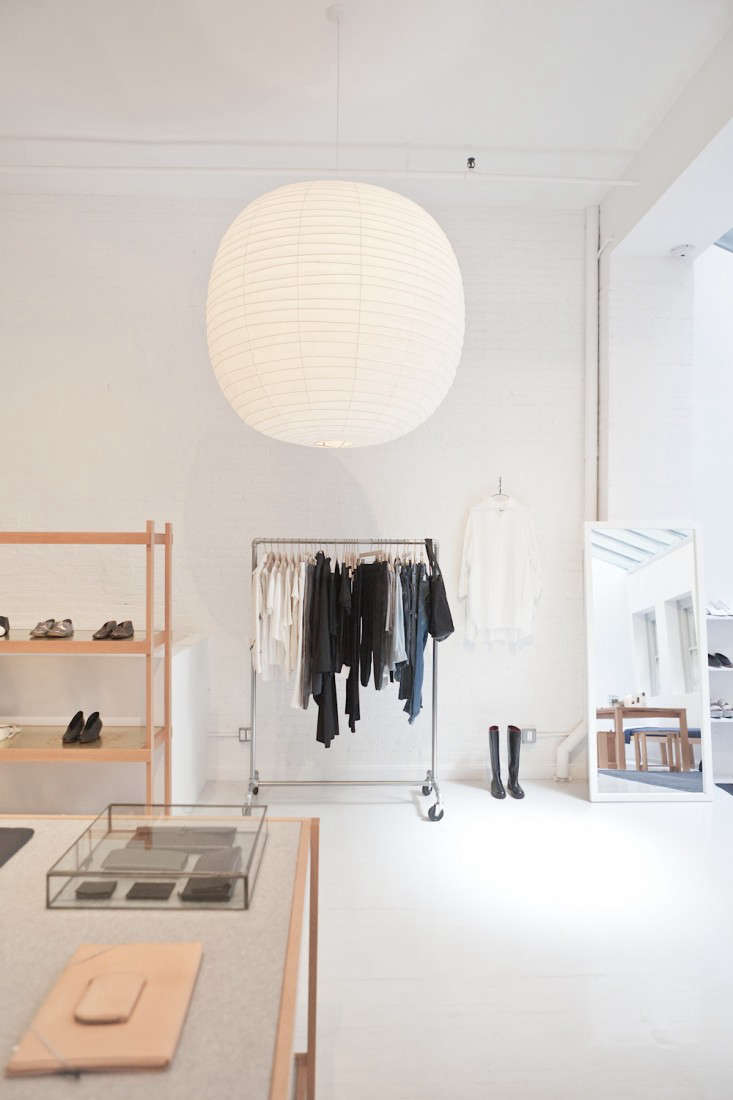 Above: A series of Noguchi Ceiling Lamps are carried down the length of the store. "We picked the biggest ones," says Solveig of the Model 125F (measuring 48 by 46 inches). "This one in the back feels a little irregular to me–which I like."
Above: The skylight was pre-existing but had been roofed over by the previous owners. Solveig removed the roof and added the steel structure. The natural light is enhanced with the addition of four subtle LED strips.
Above: A Wall Screw Hanger from German company Bless holds a simple white shirt.
Above: In the back of the store are three tiers of Alvar Aalto Wall Shelves in white, which function as the main shoe display. In the front of the store, the shelves in a natural ply hold magazines and other reading material for sale.
Above: One wall of the room and a single pillar are made of exposed brick, which Solveig painted white to bring out the texture against the surrounding flat walls.
Above: A collection of objects from Kirstie van Noort, Masanori Oji, and Saskia Diez are artfully scattered across the custom dining table, also built of Douglas fir.
Above: A detail of Solveig's crate stool design, which is inspired by Le Corbusier's Miracle Boxes (and by the modular quality of Kris' in-house clothing collection).
Above: The bench that runs the length of the back wall is upholstered in a Japanese rinsed canvas from the Moderne collection.
Above: The dark navy rug was sourced from Double Knot on Franklin Street in New York City. "It's actually a bedspread, and we folded it in half to make it thick enough to work as a rug," says Solveig.
La Garí§onne is located at 465 Greenwich Street in New York City.
For those interested in a similar approach to personal style, see our posts Style Counsel: The Housecoat Reimagined and Artist Style: 7 Studio-Inspired Smocks. And see more from architect Solveig Fernlund in our post A Scandi Kitchen in Brooklyn.
(Visited 637 times, 1 visits today)