Hillary and Jim Straatman weren't planning to move—nor was Hillary looking for a career change. Three years ago, she was a cardiac nurse on leave with two young daughters when a real estate broker mentioned a well-preserved four square newly on the market in Bellingham, Washington. Jim had grown up in Seattle in a similar turn-of-the-century, cube-shaped structure with a prominent stair and wood-paneled rooms, a house that he always says raised him. They lived nearby and took a look for fun.
The two are self-taught remodelers and old house enthusiasts—since meeting at age 20 at Bellingham's Western Washington University 20 years ago, they had fixed up a tiny bungalow followed by a slightly bigger house. But they didn't begin to consider the four square until it sat and sat on the market. "It's 4,000 square feet and needed a lot of work—it's filled with dark wood and had very little light—the electrical system had never been touched," says Hillary.
As the price got more negotiable, the couple spent nights staring at a spreadsheet trying to figure out how they might swing it. Then the house went to contract with another buyer, only to have the deal fall through several months later. "That's when we swept in," says Hillary. Read on to see how they were able to respectfully update a stately but stodgy relic on a budget—and how Hillary's SOS call to the designer down the road turned out to be life changing.
Photography by Haris Kenjar, unless noted, all courtesy of Lisa Staton Interior Design.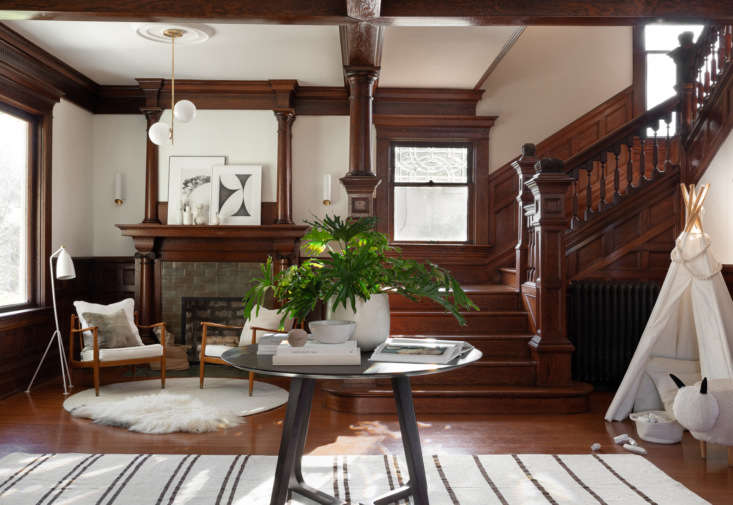 The couple wanted to preserve the architecture—without living in a museum: "we wanted it to feel old and warm but also open and airy." They did as much of the updating themselves as possible, including removing wallpaper and lugging out several flaking, lead-paint covered, 300-pound radiators (which were then sent to be stripped and powder coated). That is, until they decided to rewire. It took interviewing four electricians to find the one who was willing to work with a "crazy old house without taking out walls and lovely plaster ceilings. We needed someone who was willing to fish wire," says Hillary. While the dust was flying, they stayed in a rental they own and later with Hillary's parents; Jim, a manager at a software company, spent nights at work on the house.