Now, more than ever, our houses are spaces of comfort and reflection. And health—both within our personal spaces and for the environment as a whole—has never carried such meaning as it does today. At this time, our choices lead us to furniture that is both design-forward and exceptionally comfortable, yet also eco-friendly and made with a conscience towards sustainability, health, and well-being.  This is why we turn to Mitchell Gold + Bob Williams.
Based in Taylorsville, North Carolina, this home company has led the charge on creating healthy, eco-friendly furniture since 1989. They are committed to creating quality furniture that's built to last and made to be handed down from generation to generation. It's made by artisans devoted to their craft, many of them family and friends who have worked together for years (take a look here).
A piece of Mitchell Gold + Bob Williams furniture stands the test of time, always looking both comfortable and distinguished. Their offerings come in a wide array of materials and colorways inspired by nature, which is central to their design ethos. The company stands behind its work. Frames, springs, and cushions are backed by a lifetime warranty. All the upholstery is made with responsibly sourced materials and comes in completely recycled packaging. And, as a longtime member of the Sustainable Furnishings Council, the company is constantly incorporating new materials and processes into their designs that are healthier for workers and customers and that leave a lighter footprint on the environment.
Take a look at a few design-led pieces you can be sure are also healthy, eco-friendly, and built to last.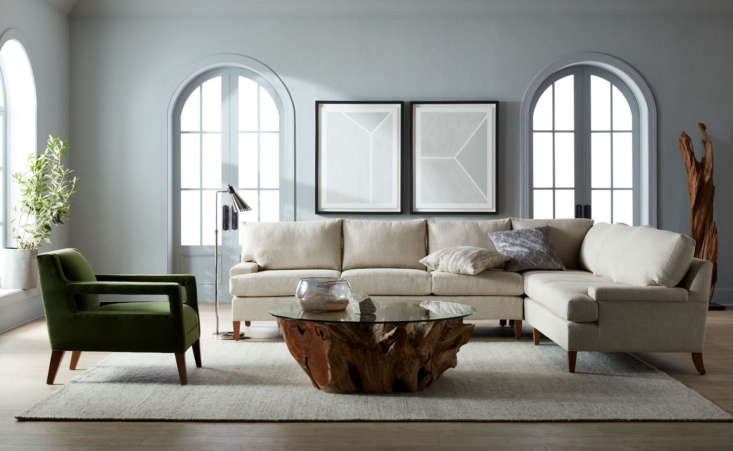 Above: Glimpses inside Mitchell Gold + Bob Williams' North Carolina factory, where skilled artisans craft each piece. The factory is outfitted with energy-efficient lighting and machinery to reduce waste.
For more of the company's sustainably-minded offerings, head to Mitchell Gold + Bob Williams. For a virtual in-home consultation, email them at [email protected]