Last month London-based chef Skye Gyngell opened her highly anticipated restaurant Spring to instant acclaim (we dropped in a couple of weeks ago for lunch and were smitten by the food and the decor).
So what does the former head chef of Petersham Nurseries (where she earned a Michelin star) and previous food editor at Vogue UK do when the day is done? She heads home and cooks some more. "When it's freezing outside, cooking warming soups and stews gives me a reason to look forward to coming home," Gyngell says. "I like to relax in my kitchen, cooking and spending time with my two daughters." Join us for a tour of her kitchen and find out what she's cooking for Christmas. 
Photography by Alexis Hamilton for British Standard, unless otherwise noted.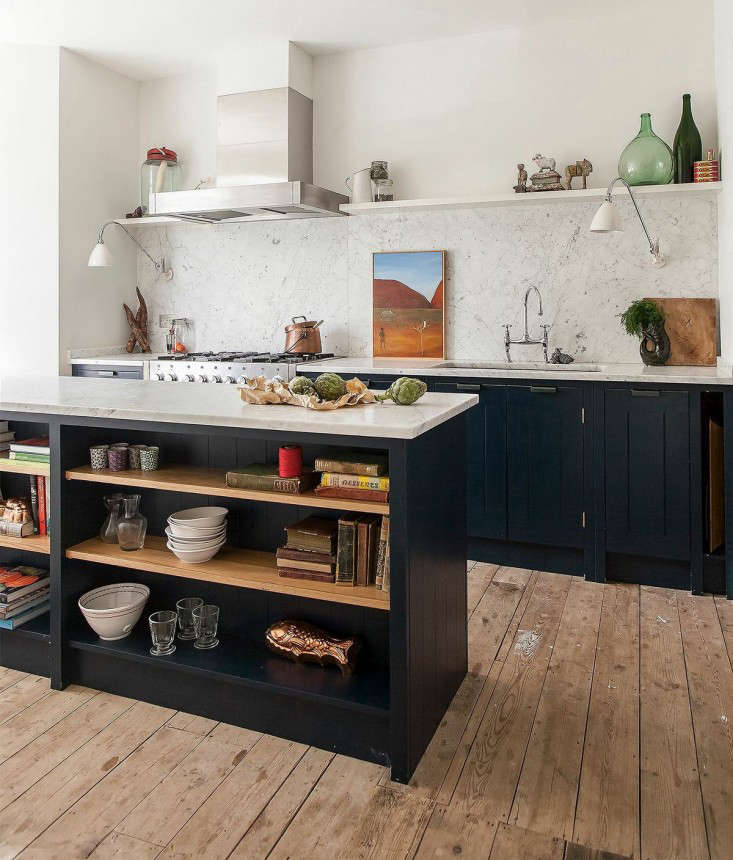 Above: Gyngell opted for a two-tone kitchen: Everything under the counter is dark, and everything above the counter is white. Her battered wood floors suggest a "working" kitchen and are in keeping with the spirit of cabinets from British Standard, Plain English's more affordable offshoot.
Above: The kitchen is on the ground floor of a west London terraced house and looks out onto the street. The tall cabinets on the left provide ample storage without looking too "kitchen-y."
Above: A white Carrara marble backsplash running the entire length of the wall is matched by the same material on the countertop. The traditional cabinets, painted Hague Blue from Farrow & Ball, contrast with the clean details of the stainless steel Mercury 1000 Range Cooker and Hood. An open shelf continues the datum set by the height of the hood.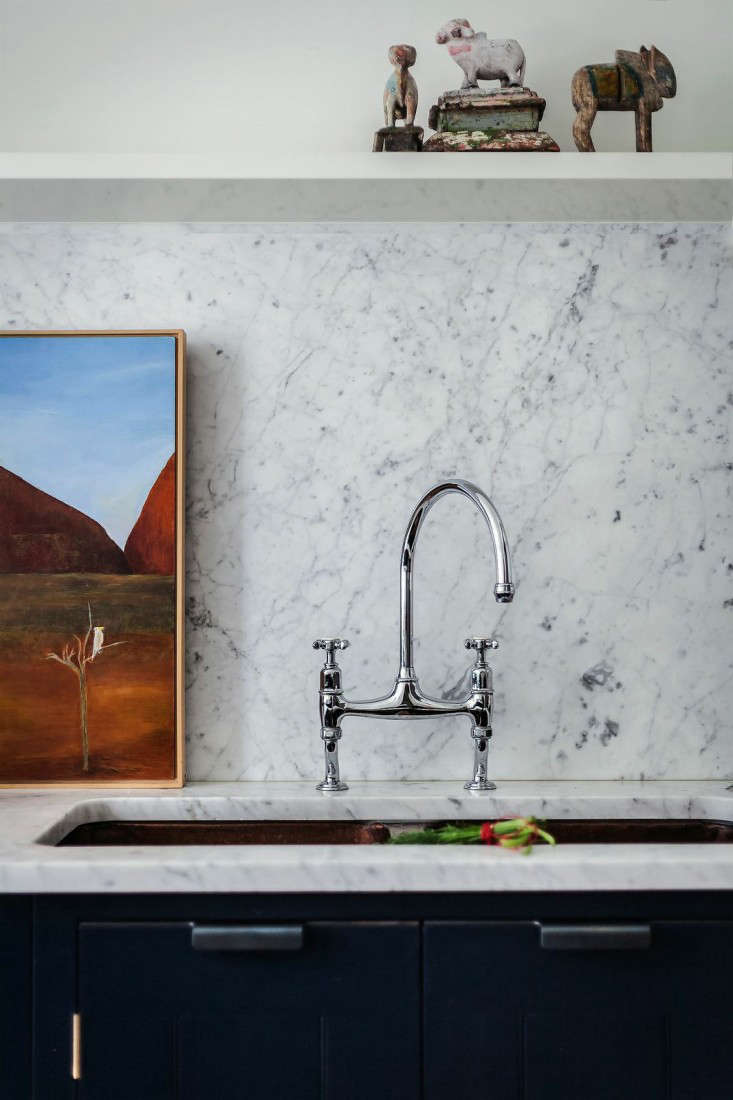 Above: The Deck-Mounted Goose Neck Faucet with Cross Hair Handles is from Perrin & Row.
Above: Gyngell selected a copper sink for aesthetic reasons–she liked the way the copper looked with the Carrara marble worktop and the dark cabinets underneath.
Above: A shimmer of copper is glimpsed through a partially open cabinet door.
Above: Copper has essential antimicrobial properties, which has its advantages when it comes to kitchen sinks.
Above L: A Gurgling Cod Pitcher from the Gluggle Shop in the UK holds herbs. Above R: Gyngell introduces dark green to the palette through colored glass bottles. 
Above: The chef's vintage cookbooks are easily accessible via open shelving on one side of the island. A painting propped on the counter is a warm addition to the Carrara marble backsplash. (Want to try this in your kitchen? See The New Art Gallery: Paintings in the Kitchen.)
Above: A detail of a customized drawer pull provided by Plain English, British Standard's bespoke parent company. 
Above: A wall-mounted white BL6 Light from Bestlite provides task lighting along the clutter-free worktop. "I don't have a food processor. I do everything in a pestle and mortar. I love hands, the connection with food," she told the London Times recently. Her arsenal includes "good knives from the Japanese Knife Company and Bourgeat pans."
Above: At the end of the kitchen, casual bench seating echoes the shape of the bay window.
Above: The leather cabinet pulls are from Plain English, British Standard's parent company.
Above: Herbs are hung to dry from the tall cabinets with a wrought iron S hook. In 5 Quick Fixes, S Hooks with Style, we source some of our favorites.
Above: What's the chef cooking for Christmas? "On Christmas Eve, I'll cook with friends–something traditional like a big glazed ham," Gyngell says. "Everyone always makes a big fuss about desserts at this time of year, but I like to finish meals with just a few lovely fresh clementines." Photograph by Amber Rowlands.
See more quintessentially British kitchens:
And on Gardenista, we visit 10 Charming Carriage Houses.
(Visited 720 times, 1 visits today)