We like the idea of spending the holidays at a world-class hotel (you deserve it when everything is going to pieces). We're obsessed with the Hí´tel Providence in Paris's theater district; a newly opened hotel from restaurateur Pierre Moussié. 
Modern eclecticism meets conspicuous glamour in the interiors. Elodie Moussié, wife of Pierre, designed the interiors with her best friend, Sophie Richard, who updated the 1854 brothel with House of Hackney wallpaper, printed velvet fabrics, antique lighting, and portrait paintings sourced from French country flea markets. Here's a look inside. 
Above: Hí´tel Providence is in the 10th Arrondissement, at 90 Rue René Boulanger.
Above: A pair of velvet upholstered club chairs on the hotel's first floor.
Above: A chinoiserie-style vase, an antique portrait, and glass pendant lights in the dining room.
Above: Gold velvet upholstery on an antique sofa and stacks of fashion books.
Above: Bar stools echo the floral prints of the walls in the bar and restaurant.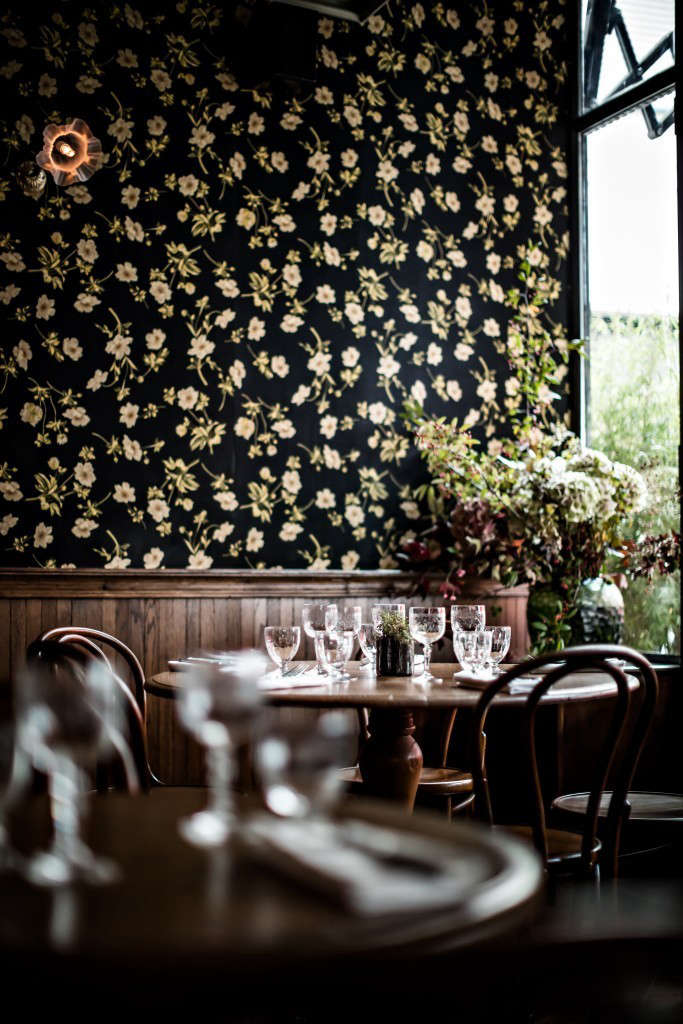 Above: A dining room of floral wallpaper and classic Thonet Era Chairs.
Above: The more minimalist Classic guest room in shades of azure.
Above: A bath behind an Estraido glass partition.
Above: A flea market find by Elodie and Sophie.
Above: The Attic Suite is coated in Palmeral Wallpaper and fabric. A Palmeral De Beauvor Screen divides the lounge area from the bedroom.
Above: Wallpaper extends to the mansard roof.
Above: Busy print gives way to a serene en suite bath.
Above: A clawfoot tub and marble tile in the bath.
Above: Meh Meh Velvet Carpet Print wallpaper in the Mini Room and a Meh Meh Tilia Table Lampshade.
Above: The Superior Bedroom with Haussmann-style windows and dark navy walls.
Above L: Each room has a cocktail bar with mixing and measuring tools and a cocktail recipe book. Above R: A brass valet, Flights of Fancy Wallpaper in Pitch Blue, and Flights of Fancy Velvet Fabric lampshades.
Above: A view from the attic suite onto the streets of the theater district.
For more hotels in Paris, see our posts:
(Visited 68 times, 1 visits today)