Amongst New Orleans' many design destinations with storied histories (a restaurant in a 186-year-old Creole cottage, a hotel in the former headquarters of a Scandinavian furniture importer), one distinctive newcomer may have the most interesting former life. Hotel Peter & Paul, on an unassuming residential block in the Marigny neighborhood, is housed in four late 19th-century buildings that were once Saints Peter and Paul Catholic church and school. The school closed down in 1992, the church in 2001, and the property sat abandoned and deteriorating. Enter Nathalie Jordi, Marigny resident and local developer, who teamed up with NYC-based design and development firm, ASH, to bring the neighborhood landmark back to life.
After four years of a complex research, design, and construction—a collaboration between the developers, local architecture firm Studio WTA, historic preservation consultants, an acoustical consultant, ASH's interior design team, and numerous other contributors—much of the buildings' original features have been preserved and thoughtfully incorporated into its new design. Each building has its own inspiration and narrative; no two guest rooms are exactly alike.
The result, according to the architects, is "a one-of-a-kind hotel in a one-of-a-kind neighborhood that celebrates the existing building fabric and evokes the rich cultural texture of New Orleans." I was fortunate to get a in-person tour from Nathalie herself earlier this fall. Let's take a look.
'After' photography courtesy of Hotel Peter & Paul and Christian Harder; 'before' photography courtesy of Richard Sexton.
After
ASH's overall design concept incorporates aesthetic influences from Europe, the Middle East, and Scandanavia. The hotel's reception desk—located under the stairs in a niche tented with gauzy linens—is inspired by the old palaces of Morocco, India, and Venice. Each floor of the schoolhouse has its own palette, inspired by iconic religious paintings from the 14th to 18th centuries: golden yellow on the ground floor, emerald green on the second, sapphire blue on the third, and ruby red on the fourth.
The furnishings are a mix of custom pieces by regional artisans and antiquities collected from Europe and from several of New Orleans' finest estates. Along my tour, Nathalie mentioned a week-long buying trip to France, from which she and the ASH team brought back a shipping container full of antiques. The custom gingham fabrics—notice the varying sized checks—were created by the 100-year-old Swiss textile manufacturer Filtex.
In an adjacent building, the Rectory—an 1861 brick building where the clergy used to reside—guests can find lounge areas, The Elysian Bar, and five luxury suites.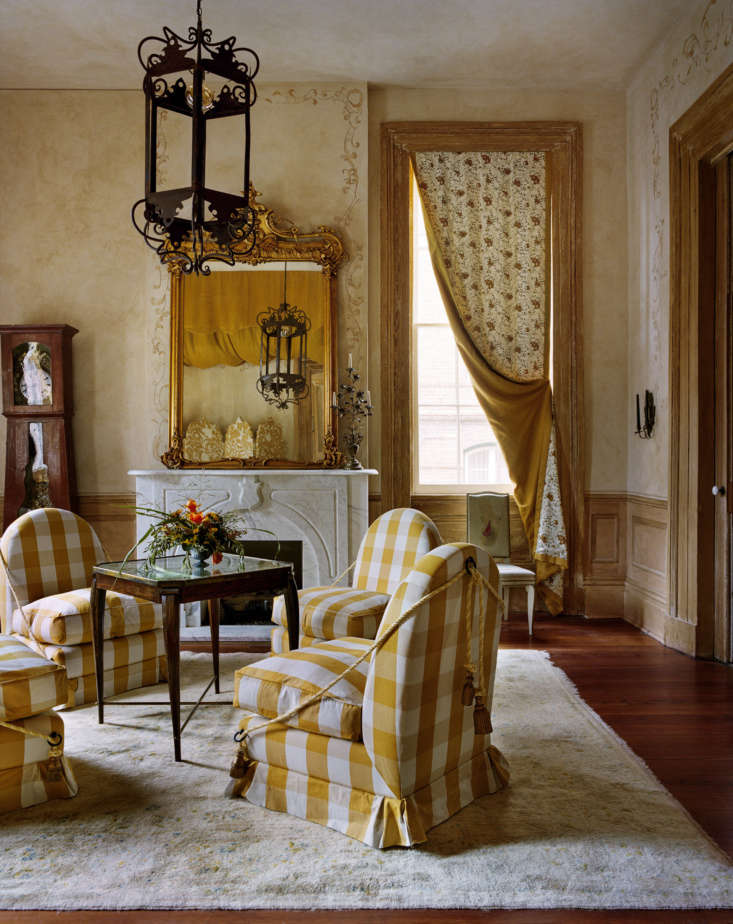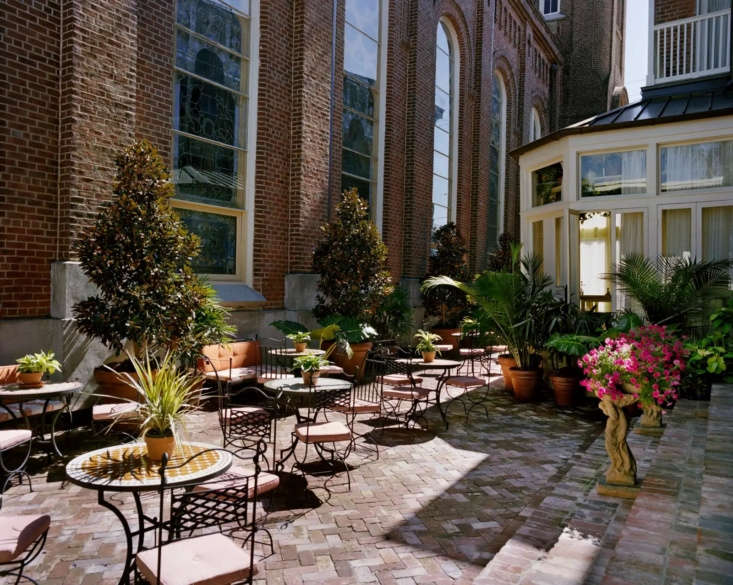 Before
Check out another ASH NYC-designed hotel we recently featured: The Siren Hotel: A Detroit Landmark with a Musical Soul, Saved from Abandonment.
Planning a trip to New Orleans? See our NoLA Travel Guide, plus: