Architect Hans Verstuyft works his magic in a duplex penthouse located in a 1960s office building in Antwerp, Belgium. The building's exterior is nothing special (think repetitive stacks of steel and glass), but the interiors tell a different story.
Photography via Hans Verstuyft Architecten, unless otherwise noted.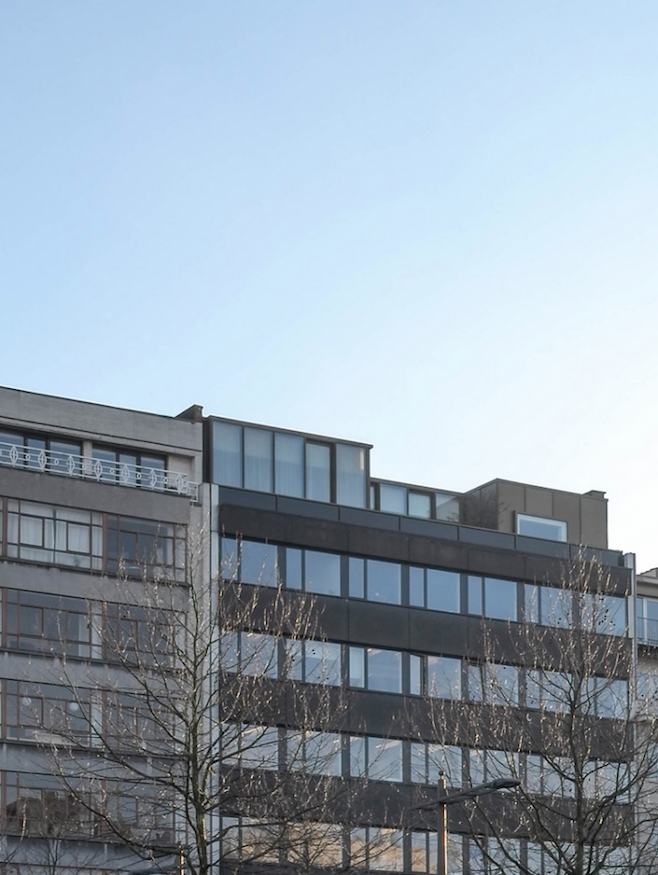 Above: The exterior of the building in downtown Antwerp.
Above: A view of the interior wraparound space.
Above: Filtered light through the courtyard tree is sketched across interior walls, shifting throughout the day.
Above: The brass ceiling lights, seen here and throughout the penthouse, were designed by Hans Verstuyft from solid brass. Verstuyft patinated the brass, he says, "for a more sober aspect." Photograph via Indico Painting.
Above: Floor-length curtains offer privacy.
Above: The raw-edge sofa is upholstered in Kvadrat wool.
Above: Verstuyft designed the kitchen, which features massive sandstone blocks. "The idea refers to an old brick build kitchen, like the earlier days in French farmhouses," says Vertstuyft. The countertops and narrow shelf are also built of sandstone, and the shelf sits on a set of custom brass support rods.
Above: The kitchen interior features wooden storage boxes, which, as Vertstuyft says, "make it all less designed and more alive." Photograph via Indico Painting.
Above: The table and countertop shelving are American walnut. Photograph via Indico Painting.
Above: Fireplaces add a homey ambience.
Above: Closets are built into the walls with vertical lats on each cabinet to serve as pull levers.
Above: In the bedroom, the rhythmic nature of hidden storage creates the effect of a wall finishing.
Above: The freestanding bathtub was made to measure in aluminum. It was initially to be covered in stone but midway through the project Verstuyft changed his mind and clad the tub with boat paint inside and a thin brass sheet outside. Verstuyft patinated the new Vola bath faucet by brushing it with an acid treatment.
Above: Outside, a counter flow rooftop pool allows for swimming with the Antwerp skyline.
Above: The floor plan details the ground office floor (L) and penthouse levels (R).
For more modern design inspiration, see our posts.
(Visited 62 times, 1 visits today)