Twenty-five years ago, Los Angeles-based Modernica started out as a vintage shop, founded to celebrate the products and principles of American modernism. Today the company designs and manufactures furniture in the midcentury modern style, headquartered in a 1929 factory in downtown LA.
For gifting inspiration, Modernica gathered some of its best sellers and special editions for the midcentury admirers on your list, starting at $89. Can't decide? Modernica offers Gift Certificates in any amount, starting at $50, and with free shipping on many items within the contiguous US, your recipient will get plenty of bang for your buck.
Photography by Havens Creative.
Above: Made by hand in Michigan, the George Nelson Cigar Lotus Table Lamp combines a Modernica-designed base with a George Nelson-designed shade. The base is nickel-plated steel with a walnut cover and walnut pull. The shade is made using the same methods and materials that Nelson used for his original Bubble Lamp series: taut plastic over a steel frame for abundant, diffused light; $425 with free shipping in the contiguous US.
Above: Suitable for both outdoors and in, the Case Study Ceramic Cylinder echoes a classic 1950s design and is available in White, Charcoal, and Pebble; $149 for small and $189 for large with free shipping in the contiguous US.
Above: Equally useful as a planter or as a bowl for corralling office accouterments, Modernica's stoneware Case Study Desktop Cylinder comes in four matte colors–Orange, Charcoal, Pebble, and White, in a stand of Brazilian walnut; $89 with free shipping in the contiguous US.
Above: Modernica's Case Study Alpine Daybed has a bent plywood frame of maple with a walnut veneer, both North American hardwoods. Available in more than 200 upholstery options, the daybed starts at $3,495.
Above: Modernica's version of the classic shell chair is made with the same machinery originally used to produce the chairs in the 1950s. The Case Study Fiberglass Armshell Rocker is available in more than 30 colors with a maple or walnut base and black or zinc wire, starting at $435. Shown here is an indigo shell, walnut base, and zinc wire; $459.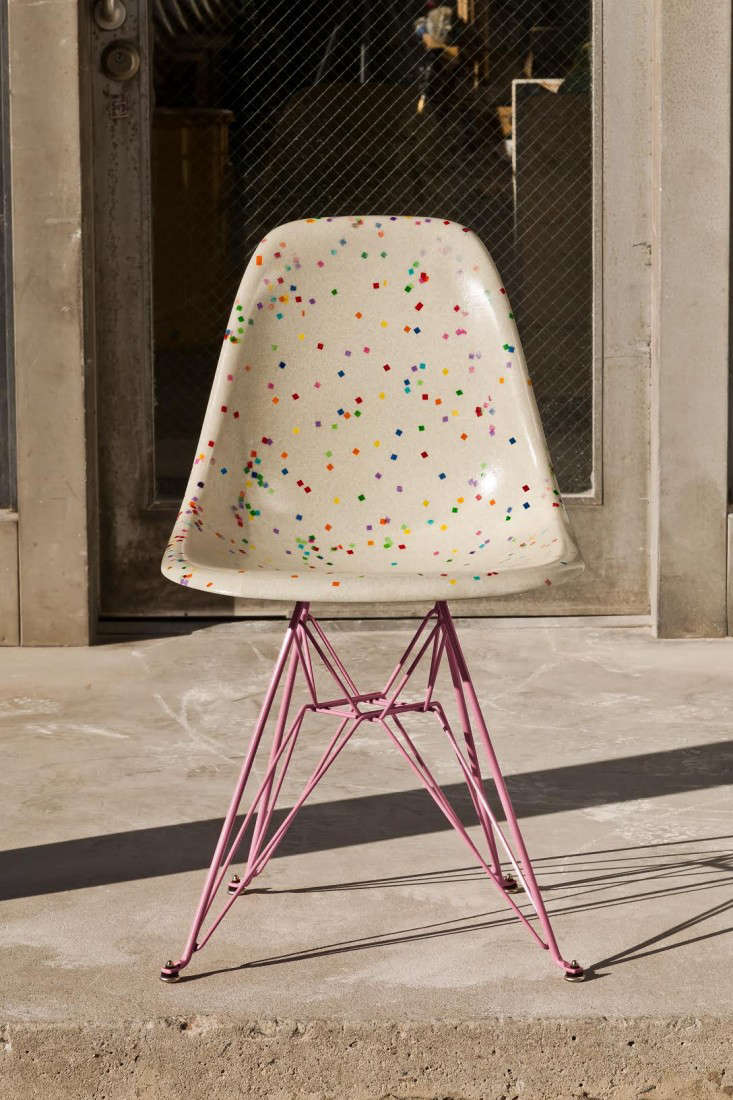 Above: Modernica has partnered with Kelly Mindell of LA's Studio DIY to create a limited-edition confetti-flecked version of its fiberglass shell chair using confetti from Knot & Bow. The Studio DIY x Modernica Confetti Chair has an Eiffel-style base in pink, yellow, or orange; only 100 chairs will be made; $395.
Above: The Case Study Fiberglass Demi Table is a Modernica design of laminated hardwood with beveled edges and a fiberglass top available in more than 30 colors. Made in Los Angeles, the table is $189, including free shipping within the contiguous US.
For more gift ideas, browse Modernica's full Ceramics, Lighting, and Seating collections. In Los Angeles, visit the Modernica Showroom at 7366 Beverly Boulevard.
You need to login or register to view and manage your bookmarks.