John Giacomazzi, the owner of home and garden store Area in San Francisco and a designer himself, sent us this fantastic DIY Glass Globe cluster light he recently put together. He also sent step-by-step instructions (see below) for creating a similar light.
MATERIALS AND INSTRUCTIONS: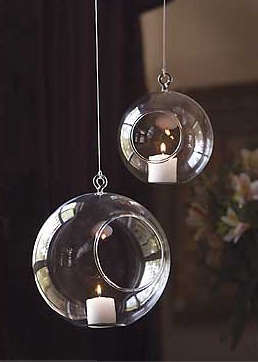 Above: Area sells glass globes in two sizes; you'll need seven of the larger size ($18 each) and 15 of the medium size ($10 each). You can order directly from John at Area.; if you're in San Francisco, the store is located in Jackson Square at 540 Jackson Street; (415) 989-2732.
Above: 9-Foot Cord Kit with Bulb Socket (includes anchors and screws to attach); $12 at Urban Outfitters.
Above: You'll need 6 to 8 feet of 3/8-inch Manila rope; 13 cents a foot at Knot & Rope Supply.
Above: Oasis Brand Natural Bind Wire; $12.99 for a spool at Jamali Garden.
Above: 40-watt Edison Bulb; $11.36 at 1000Bulbs.com.
INSTRUCTIONS:
1. Make a loop at one end of the Manila rope. Lay Manila rope on a flat surface. Place electrical cord next to Manila rope. Bulb socket should be two to three feet away from Manila rope loop.
2. Cut several six-inch lengths of bind wire. Use bind wire to secure electrical cord every eight to ten inches to Manila rope.
3. Temporarily secure Manila rope and electrical cord to ceiling hook in order to assemble glass globes.
4. Cut various lengths of bind wire and attach one to each of the glass globes. Attach the other end of the bind wire to the Manila rope loop, ensuring shape of glass globe cluster is artful.
5. Once all the glass globes have been attached, install the completed fixture.
You need to login or register to view and manage your bookmarks.