Among the many details we admire (read: covet) in the Stockholm kitchen of photographer and interior designer Benedikte Ugland is the sleek black kitchen faucet; here are some sources for high/low black faucets.
Above: Ikea cabinetry (refaced and stained black) contrasts with the beveled white subway tile. Photograph by Anna Kern for Skona Hem.
Above: Another genius touch: a ceiling fixture made from single bulb sockets wrapped around a rod commissioned from a blacksmith and suspended from the ceiling (different sized light bulbs add to the visual appeal). Photograph by Anna Kern for Skona Hem.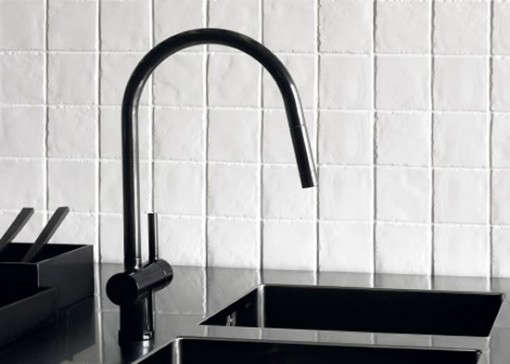 Above: Designed by Ludovica and Roberto Palomba for Zucchetti, the Shock Faucet is also available in red or blue. For information, go to Zucchetti.
Above: The classic Arne Jacobsen-designed Vola KV1 Mixer Faucet is $1,532 at the Danish Design Store. Image via Indenfor.
Above: Ringskar single-lever kitchen faucet in black; $129 from Ikea.
Finally, get more ideas on how to evaluate and choose your kitchen sink and faucet in our Remodeling 101 Guide: Kitchen Sinks & Faucets.
(Visited 358 times, 1 visits today)