Dubbed the Native collection, Commune Design's new cement tiles for Exquisite Surfaces take inspiration from Native American and Scandinavian textile and pottery patterns–and perhaps classic black-and-white comics, too. Ready to go two-toned? We are–and with very little else: These tile patterns (nearly) furnish a room. 
Above: There are four patterns in the collection, and they each come in a range of colorways and are intended to be mixed together; they retail for $22 per square foot. Stockholm Zebra tiles are shown here on the wall and floor; each one measures 7 7/8 by 7 7/8 inches.
Above: Zuni Python tiles are also 7 7/8 by 7 7/8 inches. Like the other options in the line, they come in a matte finish but can be custom ordered in other finishes. 
Above: A floor in Zuni Zebra paired with a wall in Malmo Zebra tiles. The Zuni tiles are 7 7/8-by-7 7/8-inch square; designs in the Malmo range are rectangular subway tiles available in a variety of sizes.
Above: For something a bit less bold, consider the Navajo Zebra pattern.
Above: Zuni Zebra tiles in black and white.
Above: A close-up of the Malmo Zebra pattern in subway-tile rectangles.
Above: Zuni Python in gray.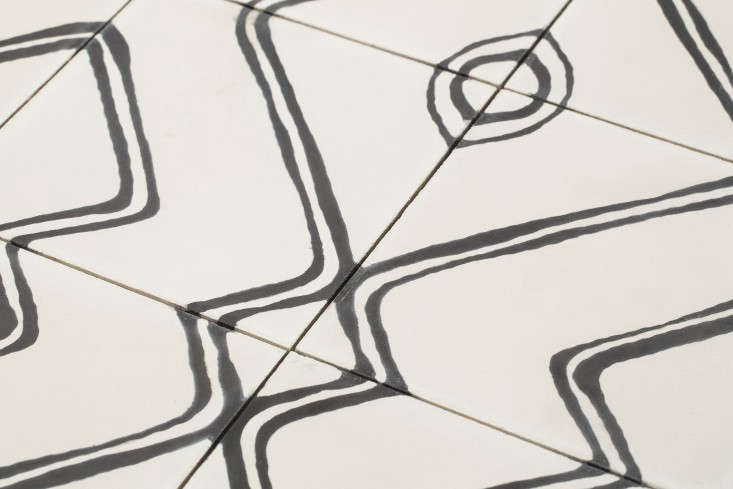 Above: Go to Exquisite Surfaces to see the full Native by Commune collection as well as Commune's Sitio tiles, which are also available in black and white. Read about Commune's wood flooring in our post Reclaimed Wood Floors Made Modern.
Commune is an LA design collective and a member of the Remodelista Architect/Designer Directory. A new book of the firm's work, Commune, Designed in California, is just out from Abrams. Have a look at one of our favorite of their projects: the Ace Hotel LA, including its Rooftop Lounge and Black-and-White Bathrooms. 
(Visited 322 times, 2 visits today)