After years of living in San Francisco—they met, studied, and started a business there—designers Rachel Gant and Andrew Deming of Yield Design were ready for a change. "We wanted more space and room to grow," said Deming, a Florida native and Flagler alum. "We considered other cities, but ultimately settled in St. Augustine, Florida, because we already had an amazing community there and felt a strong draw."
They could also afford to buy a house there, and decided on a 1,560-square-foot, three-bedroom, two-bath house in the Davis Shores neighborhood of the city's Anastasia Island. "It was in terrible shape, but we loved the location and had confidence that the structure was sound," said Deming. They took out a home loan, but it didn't cover renovations, so they paid for everything out of pocket. "We consistently tried to find ways to cut costs without sacrificing quality," he said.
In total, they spent $20,000 on the renovation, of which $15,000 went to upgrading the interiors. (We feature the exterior renovations on Gardenista today.) Let's see how they managed it.
Photography by Kelsey Heinze, courtesy of Yield Design.
Above: Gant and Deming retained the house's layout, but transformed each room with new paint (Sherwin-Williams Extra White), floors, and furnishings. In the living room: The brown leather couch is from Article and the ceiling fan is from Home Decorators Collection.
Gant and Deming did as much of the work themselves as possible, and spent money to hire workers only "on the more impactful features that required skilled labor," said Deming, like the AC ductwork indoors.
Above: When they started demolition, the owners discovered eight different layers of flooring throughout the house, including ceramic tile, carpet, asbestos tile, concrete, and plywood. They removed everything down to the base layer and stained and sealed the concrete floors.
Above: Note the exposed AC ductwork at top right; when the owners bought the house, the AC ducts were completely collapsed and enclosed in a drywall soffit that ruined the flow of the original angled ceiling. Gant and Deming removed the soffit and replaced the AC ducts with new metal versions.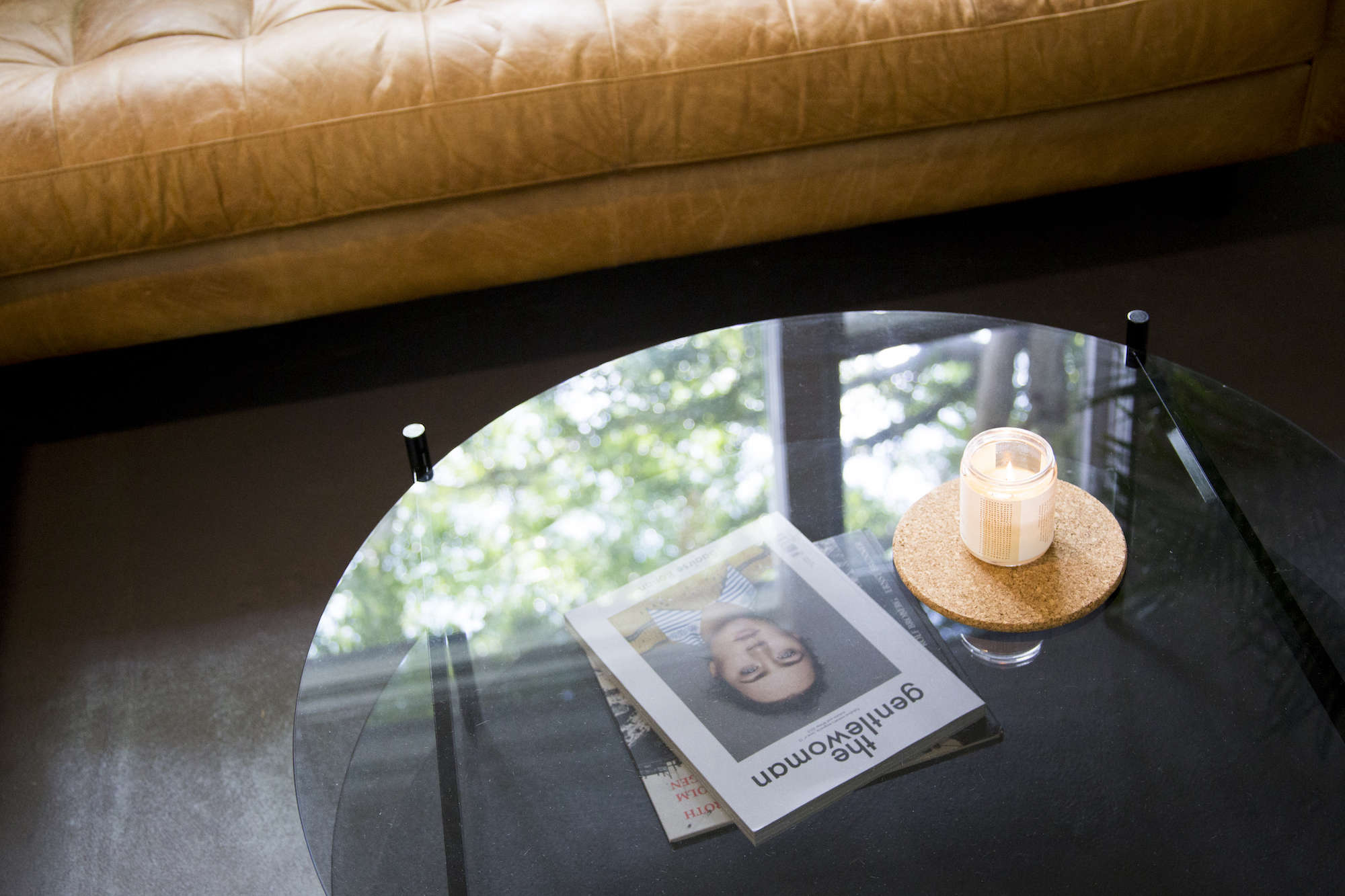 Above: The black glass coffee table is a Yield design; the Duotone Circular Coffee Table with black base and smoked glass tiers is made locally in St. Augustine; $2,250.
Above: Over the fireplace vents, Gant and Deming replaced existing rusted metal grills with vertical wood slats.
Deming cites "savvy sourcing" as one of the primary ways he and Gant were able to keep project costs down. "Whether it was hiring a contractor or sourcing faucets and hardware, we rarely went with the first option we found."
Above: The house had a sunroom that had been tacked on with only a plywood subfloor; Gant and Deming installed whitewashed wood floors, replaced broken windows, and covered the room's yellow and green walls with a fresh coat of white paint. It's now used as a formal dining room. The table and chairs are from West Elm.


Above: It was a top priority for the homeowners that the floors be durable and easy to clean; they spend a lot of time with Clover, their rescue dog, at the beach and park, and sand and dirt inevitably gets tracked in. "Whether it's the floors or the furniture," said Deming, "we are really against the idea of things being too precious." On the left is a 16-Inch Spun Planter in copper by Yield; $280.
Above: The everyday dining table is in a small nook off the kitchen; the stools are by Marcel Breuer, and above the table hangs a pure copper Meso Pendant Light from Yield; $375.
Above: Gant and Deming made an open shelving system using alder wood from the Pacific Northwest; "It's a nice, renewable wood that we use in some of our furniture designs," Deming says.
Above: To open up the cramped kitchen, the homeowners demolished most of a wall dividing the kitchen from the dining nook.
Above: Gant and Deming kept kitchen costs in check by retaining both the existing cabinets and white tile backsplash. They updated both, however: They refinished the cabinets and retrofitted the space to allow for a new farmhouse sink, and they refreshed the tile with black grout. They swapped the original laminate countertops for beechwood from Ikea.
Above: The bathroom has a black faucet from Ikea, a vintage mirror, and a decorative cedar ceiling.
Before
Above: When Gant and Deming bought it, their house had an ivory and red color palette.
Above: The existing kitchen had porcelain tile floors, a stainless steel sink, and laminate countertops.
Above: The bathroom before its refresh.
Learn about the house's exterior transformation today on Gardenista. For more before-and-after overhauls, see: