From artisanal glassware to the deconstructed kitchen; our predictions for the trends that will define autumn 2015.
The Deconstructed Kitchen
Above: The less-than-perfect kitchen, cobbled together from disparate elements. Photograph via Katrin Arens. Stay tuned: We'll be devoting ourselves to this topic next week.
Black Kitchen Utensils
Above: Black kitchen accoutrements; see more at Kitchen Tools with a Masculine Edge
Terrazzo Patterns
Above: Terrazzo patterns, as in this LA bath tiled in Dzek Marmoleum Tiles by Max Lamb. Photograph by Brian Ferry.
Dual-Purpose Furniture
Above: Furniture that does double duty: charges devices, for instance, or includes built-in storage as in the Planks Collection (shown) by Max Lamb for Benchmark, introduced last week at the London Design Festival.
Room-Spanning Kitchen Storage Rails
Above: Room-spanning kitchen rail storage, as in this kitchen by Boffi. See more at 13 Kitchens with Storage Rails.
White Kitchen Appliances
Above: Are white appliances the new stainless? We think so (for examples, go here and here and here).
Ikea Furniture Disrupters
Above: A handful of upstart design companies are coming out with flat-pack furniture at Ikea prices (stay tuned; we'll be posting more on this trend tomorrow). Photograph via Greycork.
Mossy Green
Above: Our resident color forecaster Alexa says mossy green is the next big thing, as in this bedroom at Margot House in Barcelona. (We think she's on to something.)
Black Tapware in the Kitchen and Bath
Above: The bathrooms at the Ace Hotel in LA have a noirish appeal. See more at Steal This Look: Ace Hotel in LA Bathroom.
Midcentury Brand Revivals
Above: In Sausalito, Robert Young has relaunched his father's groovy lighting collection. In London, John Lewis has just reissued Robin and Lucienne Day's stackable polyside chair. Stay tuned for more comebacks.
Pittsburgh Is the New Portland
Above: The Ace Hotel is opening an outpost in Pittsburgh in late 2015 in the East Liberty neighborhood (once home to steel magnates such as the Fricks, the Carnegies, and the Mellons). Google opened an office in 2010, the Andy Warhol Museum is nearby, and Ace is calling it "the Sleeper City."
Artisanal Glass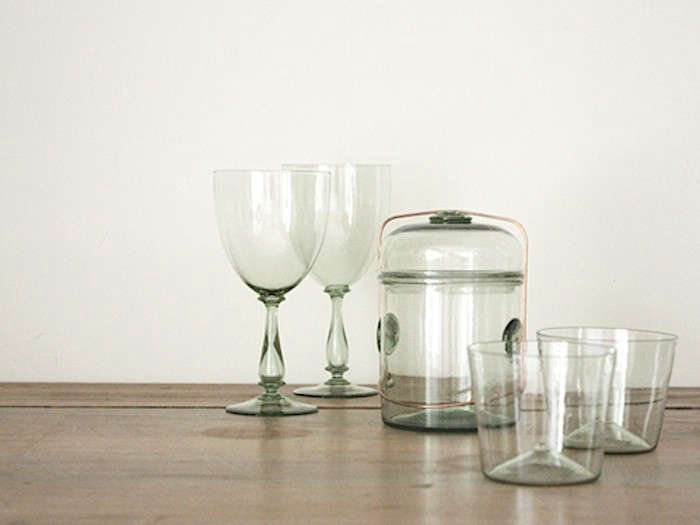 Above: Is glass the new pottery? We think so; we're all assembling collections of handblown vases and more.
Beauty Products for Furniture
Above: Organic salves and solutions for furniture care; we like Shop Tamsyn's Wax Eternal, an organic polish made from cold-pressed olive oil, beeswax, herbs, and organic essential oils.
The Tawny Sheepskin
Above: The accessory du jour? Brown sheepskins are displacing snowy white sheepskins as the weather turns. One of our favorite sources? Black Sheep (White Light). Photograph via The Socialite Family.
Unexpected Tile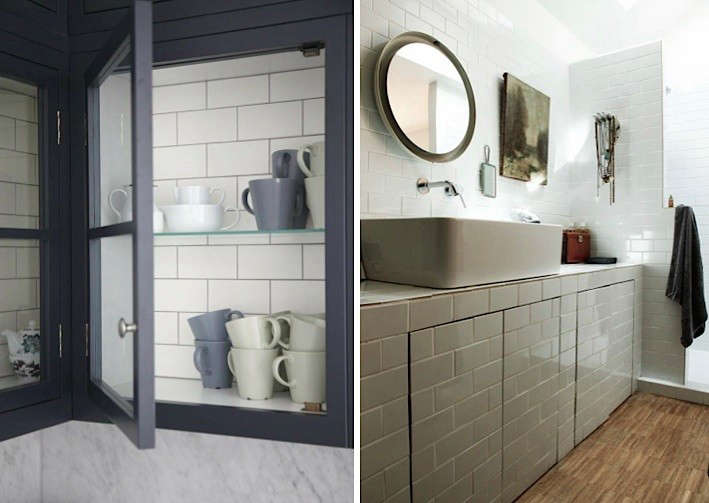 Above L to R: Tile in unexpected places; a cabinet interior in a London Victorian, for instance, or a bathroom cabinet in a French farmhouse.
Interested in more of our predictions? See Top 15 Interiors Trends of 2015 and check out our Trend Alert series.